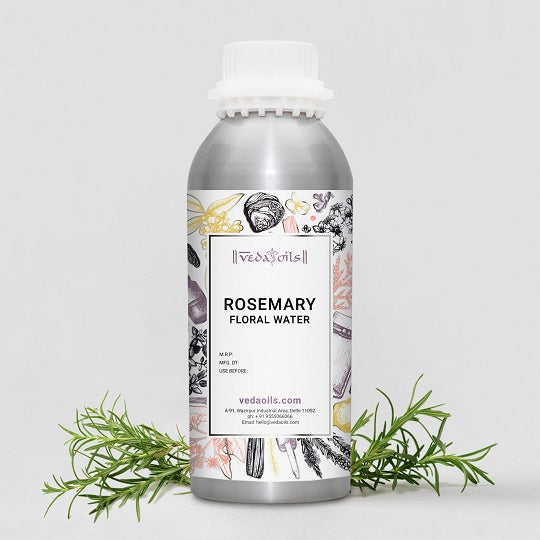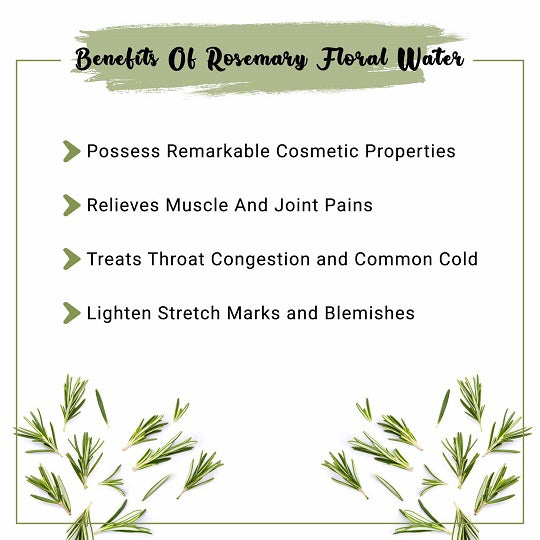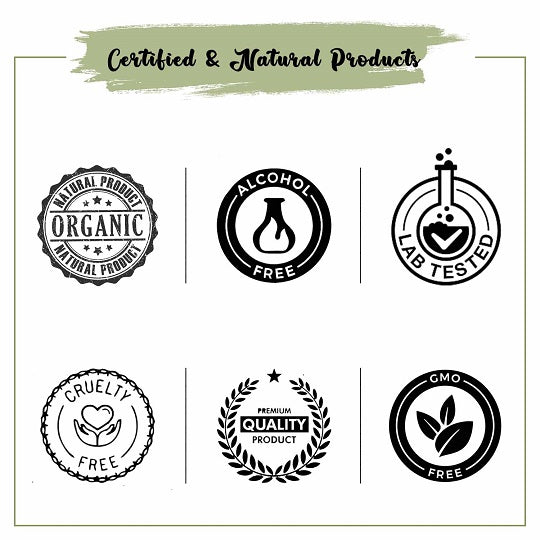 Our Certifications
Rosemary Hydrosol
Rosemary Hydrosol is refreshing herbal water obtained from the steam distillation of rosemary sprigs. It smells more like Rosemary than the essential oil itself. This herbaceous floral water is energizing and invigorating. Its scent is proven to sharpen mental clarity and boost memory, so it's a great to keep in your study! Hydrosols can be used in lotions, creams, bath preparations, or straight on the skin.
Rosemary Floral Water is prepared by the steam distillation of Rosemary essential oil, made from the leaves of fragrant, beautifully scented plant. This Hydrosol is one of the most popular floral waters, especially in its use in cosmetics. This Floral Water has been used for cosmetic and skincare purposes since ancient times.
Deep, invigorating, and enriching floral aroma of the this floral water smells exactly like fresh Rosemary leaves and fills your senses with an energizing and refreshing aroma. Rosemary is extremely high in naturally occurring vitamin E. Because of this, the Pure Rosemary Hydrosol makes great skin toning additives to any beauty care recipe. This floral water can be easily incorporated into a lotion recipe by subbing out the water portion in your formulation for this floral water.
Rosemary Floral Water also makes a great standalone facial toner, and with continued use, it will help tone and tighten the skin. This floral water is known to have fabulous properties which provide numerous benefits to the skin. It is a proven raw ingredient and an excellent choice for use in facial toners, hair care products, scalp toners, face cleansers, room fresheners, air fresheners, aromatic bath additives, foot sprays, body mists, facial masks, meditation or prayer sprays, car freshening sprays, calming sprays and such.
Rosemary Hydrosol Uses
Face Toners
Rosemary is an excellent face toner ingredient. Rosemary hydrosol is even more effective in regulating excess sebum because it's water-based. After cleansing and drying your face, put some onto cotton, dab it onto your face, and apply moisturizer.
Cosmetic Care Products
Rosemary hydrosol extracted naturally is the best ingredient for preparing make-up setters. Spritzing some of this hydrosol after doing the make-up helps it stay in place for a longer period and gives a pretty dewy appearance to the skin.
Hair Care Products
Rosemary hydrosol has been considered one of the best-distilled waters intended for hair care. It adds volume and thickness to hair, boosts hair growth and prevents thinning. Its astringent and moisturizing properties rejuvenate your scalp and strengthen the roots.
Analgesic
Rosemary hydrosol is analgesic (pain-relieving) just like the essential oil. Use this straight as a pain-relieving spray. Spray it on arthritic joints, sports strains, muscle cramps, and often sprains throughout the day for relief.
Diffusers
Rosemary Hydrosol, when used in diffusers, can help open up and refresh the senses. Most commonly used in aromatherapy, candlelit diffusers are the best method for diffusing this floral water.
Stimulants
Rosemary oil and hydrosol are powerful circulatory stimulants. They invigorate blood flow to the scalp, promoting hair growth. It's also good for promoting lymph flow, good for detoxifying the body.
Rosemary Hydrosol Benefits
Treating Acne
Many acne sufferers have itchy, dry, and painful acne, especially those with cystic acid. You can add Rosemary hydrosol into a fine mist spray bottle. Spritz on your face as needed.
Moisturizes Skin
Rosemary hydrosols have moisturizing Properties. Mix it in moisturizer, use it as a facial mist or apply it on hair to keep it looking moisturized, silky, and smelling gorgeous.
Healing Cuts & Wounds
Rosemary Hydrosol offers antibacterial and antimicrobial properties; that's why it can be used for the treatment of cuts, and wounds. Take some hydrosol onto a clean cotton pad and gently dab over the washed wound.
Anti-Fungal
Rosemary is anti-fungal. Spray it on the itchy scalp, scalp fungal infections, diaper rashes, dandruff, and more. Remember to wipe it off completely after using it because fungi thrive in moist places.
Antiseptic
Antiseptic properties of rosemary hydrosol are good for disinfecting skin and surface. To cleanse the skin, spritz on the affected area. To clean surfaces such as mirrors and wooden tables, spray hydrosol, then wipe off with a microfiber cloth.
Antispasmodic
Rosemary Hydrosol has antispasmodic properties, due to which it helps relieve muscle spasms and cramps. You can spray hydrosol on arthritic, gout, sprains and strains up to several times a day for relief.
Product Specifications
| | |
| --- | --- |
| Product Name: | Rosemary Hydrosol |
| INCI Name: | Rosemarinus Officinalis |
| Raw Material Source: | Rosemary leaves |
| Extraction Process: | Steam Distillation |
| CAS Number: | N/A |
| Country of Origin: | United Kingdom |
| Suitable For: | Creams, Lotions, Facial steam |
| Color: | Colorless |
| Odour: | Soft, Slightly Green, Fresh, Swwet Anise/Licorice-Like Aroma |
| Solubility : | Soluble In Water And Alcohol, Insoluble In Fixed Oils |
| Storage: | Store in a Cool & Dry place. |
| Shelf Life: | 2 years |
| COA: | |
| MSDS: | |
CAUTION: It is meant for external purposes. Keep it away from the reach of your kids and avoid direct contact with eyes
Packaging Sizes
Please Note: The packaging shown above is a General Representation of the various sizes and types of packaging available for this product. Not all sizes and types of packaging for this product maybe available at all times.
Buy Rosemary Hydrosol Online In UK at low Price
VedaOils is the largest manufacturer, supplier, wholesaler and seller of varied types of hydrosols, We promises to indulge you in the freshness and quality of our wide-range products, including our Rosemary Hydrosol. Vedaoils do not compromise with the quality of the products when it concerns your health and beauty. We assure you that we adopt the highest quality standards both in production and packaging, delivering to you the ultimate, premium quality product.
We follow strict packaging standards while packing our high-grade hydrosol so that you can receive them in perfect condition at your doorstep. We offer VedaOils Pure Distilled Rosemary Floral water in packages of different quantities (1kg, 5kg, 10kg, 25kg) so that you can order them as per your needs from our website. We aim to provide you with the finest of the goods, giving to you the richness and the goodness of pure natural ingredients.
You can purchase VedaOils Pure Rosemary Hydrosol from our online store, from the comfort of your home at the most affordable prices and safe payment methods. Our rosemary floral water not only caters to your cosmetic and beauty needs, but also to preparation of cleaners, room sprays and more. Check out the bulk prices of our products and avail huge discounts.
Apart from being a fine manufacturer in the Unied Kingdom market, VedaOils is quickly emerging as a leading producer, and exporter of global quality natural Rosemary Hydrosol. We are exporting products globally to countries like the USA, Canada, Australia and many more. It does not contain any chemicals or artificial preservatives and is, therefore, a good alternative to synthetic fragrances and oils. Our logistics partners like DHL, India Post, Blue Dart, FedEx, etc.
Frequently Asked Questions
WE NOTICE YOU ARE FROM
US & CANADA LOCATION