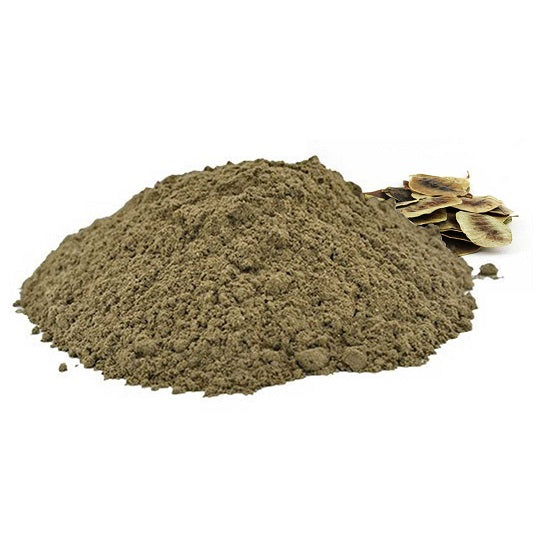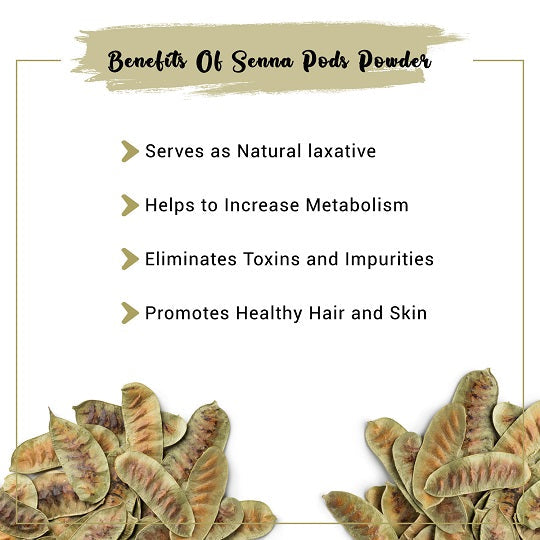 Our Certifications
Senna Pods Powder
Senna is a pea family member native to northern Egypt, with long, spreading branches and yellow blossoms that develop into rectangular and flat fruits. Senna pods have long been used in traditional medical procedures due to their beneficial characteristics. This powder is occasionally used for its moderate laxative properties. It is obtained after crushing the organic Senna alexandrina pods. Senna Pod Powder works well in capsules, extracts, and topical treatments. It promotes bowel movement by decreasing smooth muscle retention and promoting smooth muscle flow through the gut.
Senna Pods Powder contains the benefits of the herb, which helps to improve metabolism and is thus utilized as a weight-loss agent. This powder can be used topically on the hair to make it smooth, lustrous, and strong. Senna not only beautifies your hair but also improves the health of your scalp and heals dandruff. It improves the sheen and definition of your hair. Furthermore, Senna Herbal Pods Powder helps treat the symptoms of skin illnesses such as eczema, such as rough skin, blisters, inflammation, and irritation.
Senna Pods Powder Uses & Benefits
Improves Hair Health
Senna pod powder is beneficial for adding shine to your hair and strengthening and thickening it. It reduces the negative effects of chemical treatments. Because it is a good conditioning herb, it is widely recognized for treating hair loss. It will not lighten naturally dark hair, but it will give deep conditioning.
Radiant and Glowing Skin
Due to its anti-bacterial qualities, this powder can aid in the treatment of dermatological or skin problems. The paste created from Senna herbal powder is particularly relaxing, calming, cooling, and beneficial for the treatment of skin infections like acne and inflammatory disorders like eczema.
Laxative Properties
Senna pod powder is commonly used for its laxative effects. Anthraquinones, sennosides, and other lesser sennosides have been found in the scientific research, and all appear to contribute to the laxative action as digested food travels through the intestines, these substances smooth and relax the tissues, acting as a laxative.
Herbal Tea
Senna herbal tea is most commonly used to increase bowel movements and relieve constipation. Glycosides and sennosides are the principal active chemicals in this powder. Sennosides are not absorbed in the digestive tract, but they are broken down by gut flora.
Weight Loss Agent
Senna herbal pods powder aids in weight loss and bodily purification. It has the potential to alter the natural functioning of intestinal tissues and lead to laxative dependency. It also boosts metabolism, which is a crucial factor in weight loss. It also eliminates toxins from the body, which build up and promote weight gain.
Purifies Skin Layers
It aids in eliminating Toxicogenic and Putrefied Pitta by motion and provides relief from fever-induced by excess inflammation. Senna assists in eliminating toxins from the skin layer and the intestines. It aids in the removal of excess mucus from the lungs and reduces the severity of the cough.
Product Specifications
| | |
| --- | --- |
| Product Name: | Senna Pods Herbal Powder |
| Brand Name: | VedaOil |
| Store: | Cool and Dry Place |
| Manufacturing Process: | NA |
| Tested On Animals?: | No |
| GMO: | GMO-free but not certified for it. |
| Vegan: | Vegans can use it because it does not contain any animal-derived components. |
| Shelf Life: | 2 years |
CAUTION: It is meant for external purposes. Keep it away from the reach of your kids and avoid direct contact with eyes
Packaging Sizes
Please Note: The packaging shown above is a General Representation of the various sizes and types of packaging available for this product. Not all sizes and types of packaging for this product maybe available at all times.
Buy Senna Pods Powder Online in UK at Best Price
VedaOils is one of the prominent manufacturers, suppliers, & wholesale distributors of Senna Pods Powder and other herbal powders in United Kingdom. Our products are trusted all over UK for their high quality and purity. No artificial colours, preservatives, or fragrances are added while making organic senna pods powder. Hence our herbal senna powder is 100% Natural and Organic.
Order best cassia angustifolia powder online through VedaOils' shopping portal according to your requirements. We deploy high standard delivery to ensure that the best quality product reaches you in time. Pure Senna Pods Powder is now available in packets of 100 gm, 500 gm, 1 kg, and 5 kg. You can also buy natural senna in bulk at wholesale prices from us. We offer discounts and wholesale rates for bulk purchases. you can leave a query in our Bulk Enquiry section to buy organic senna pods powder at the best price in UK. We export senna pods Powder in bulk quantities to The USA, Canada, Australia, and many more countries using our logistic partners DHL, FedEx Blue Dart, India Post, etc.
Frequently Asked Questions
WE NOTICE YOU ARE FROM
US & CANADA LOCATION