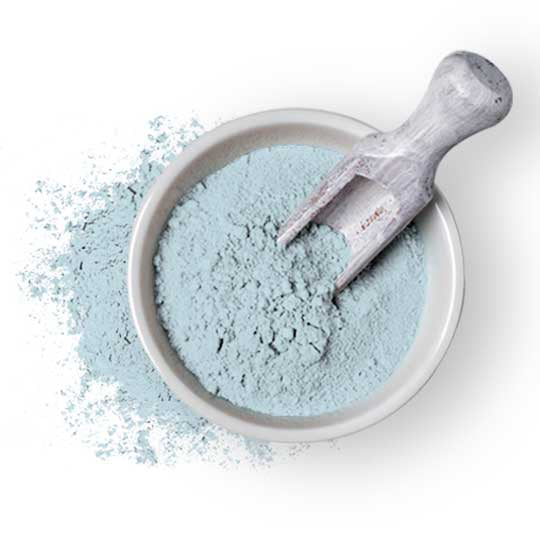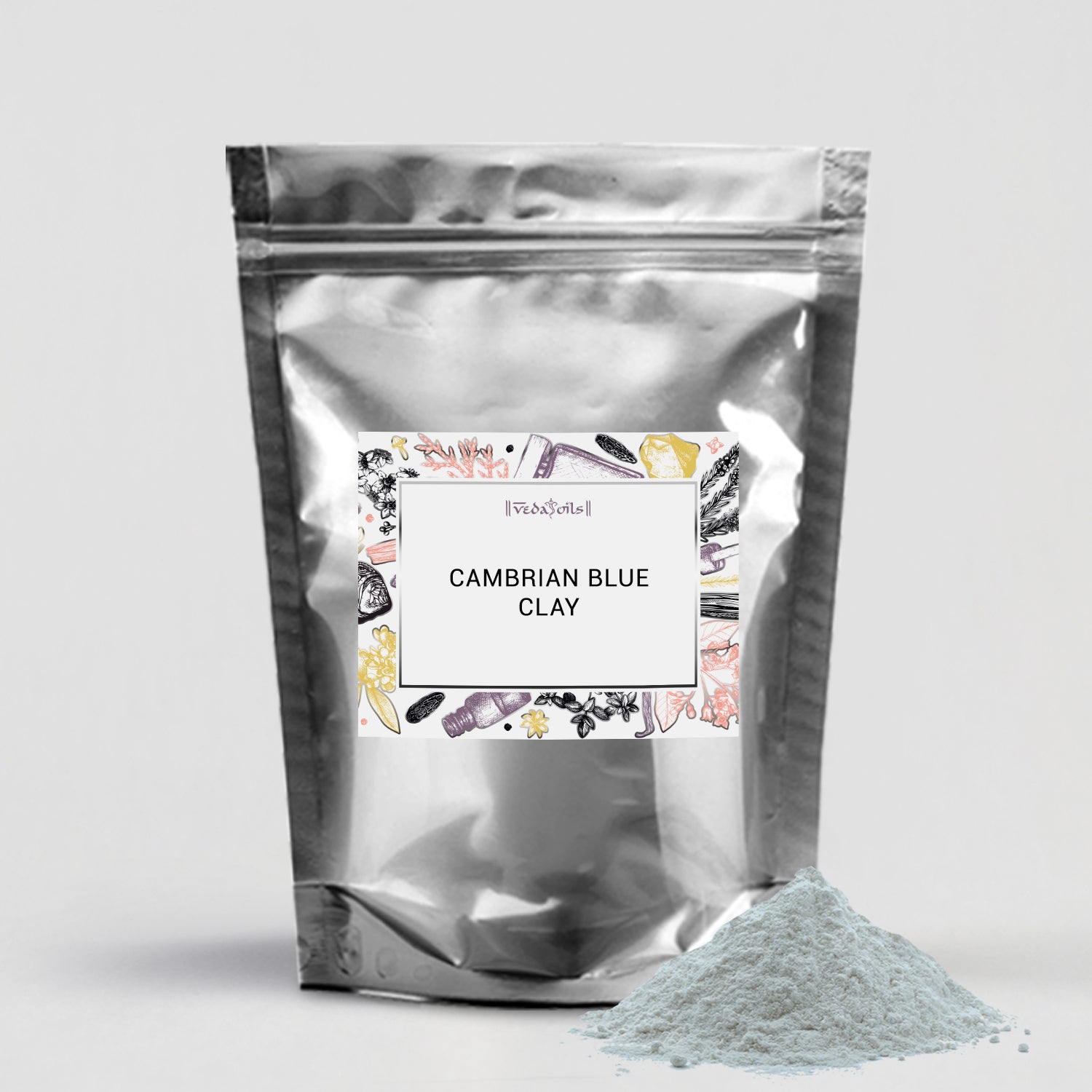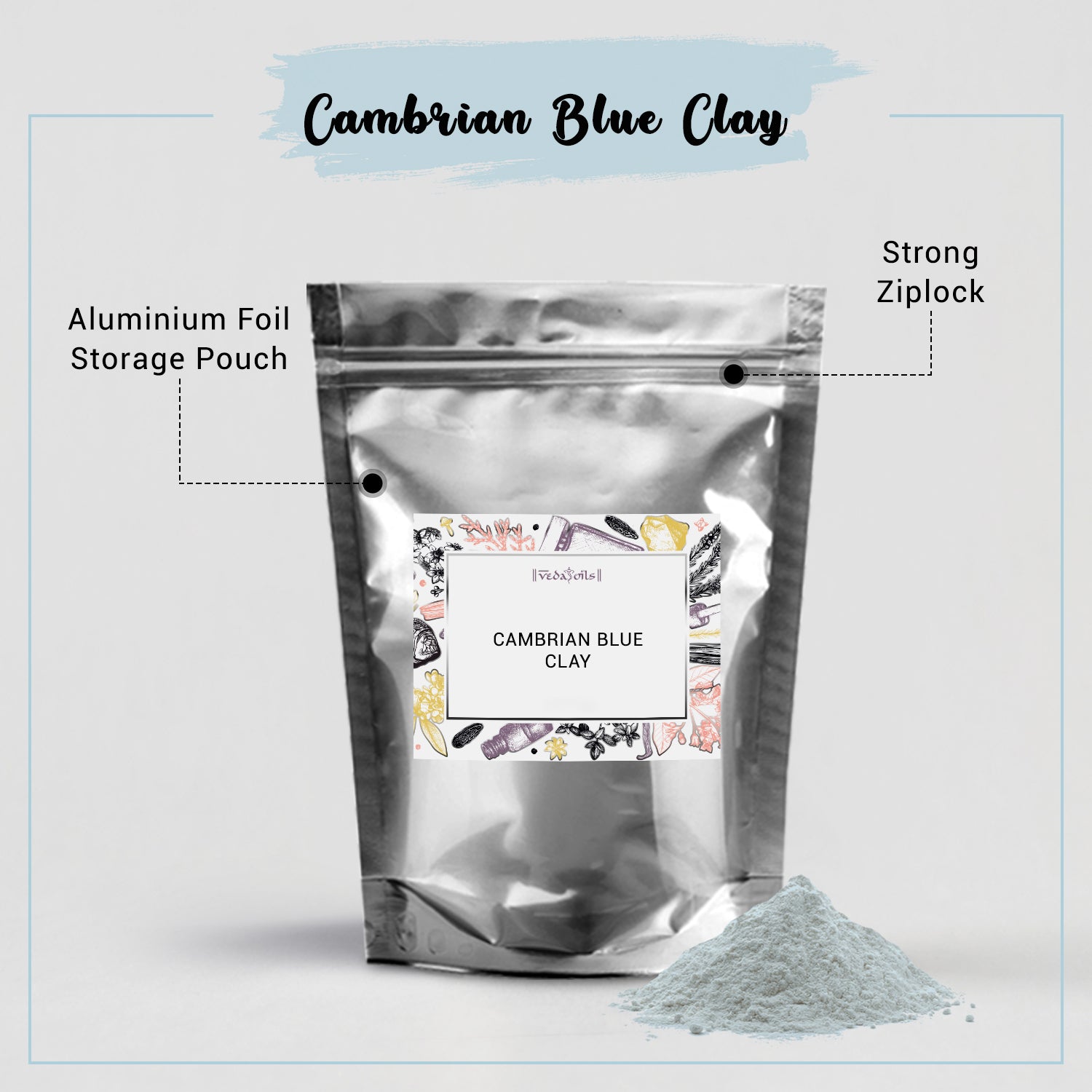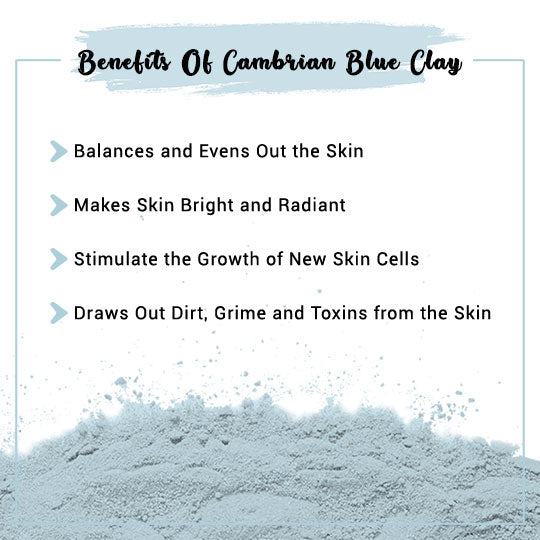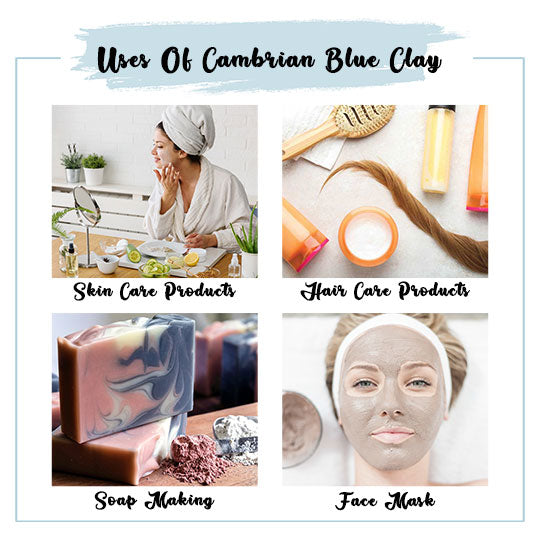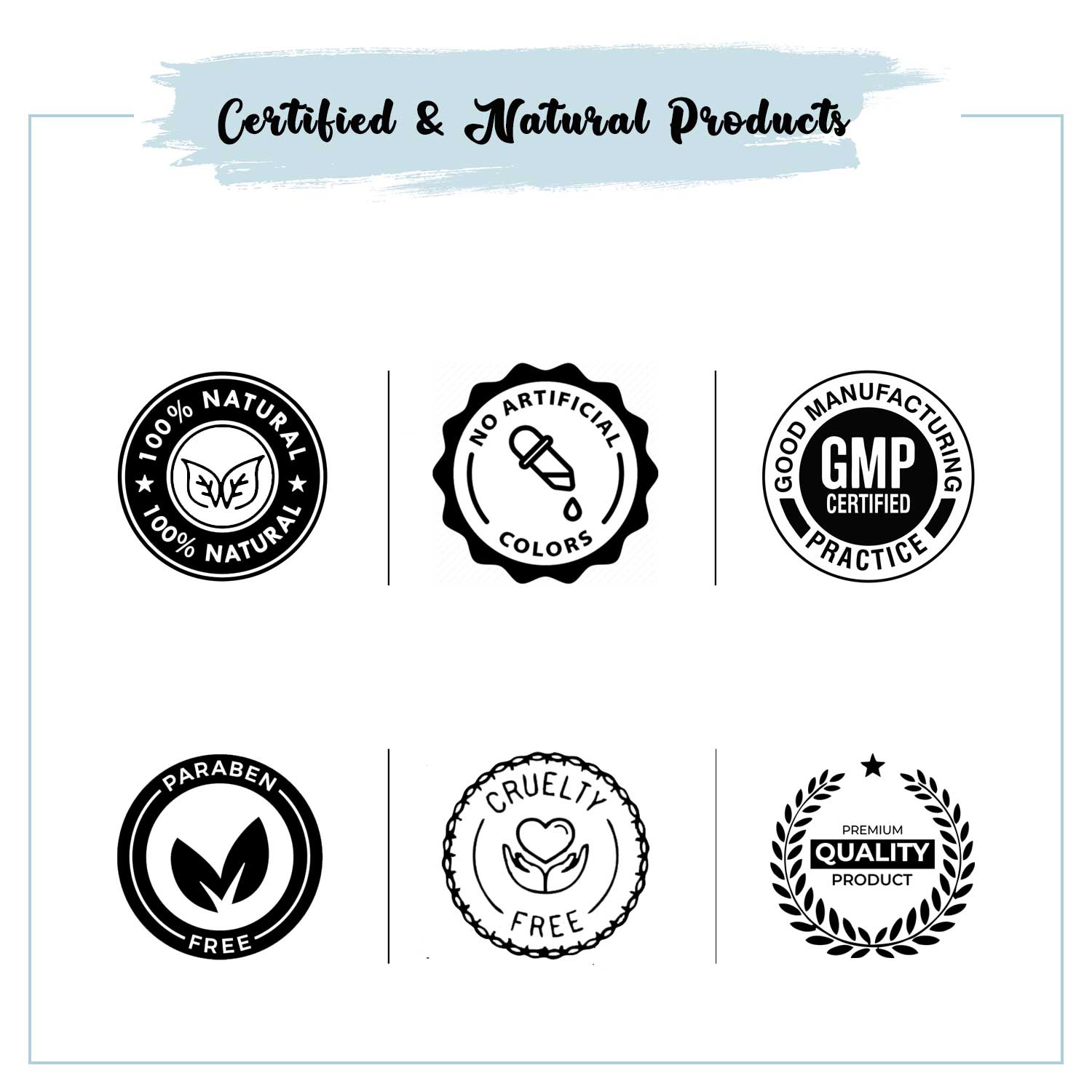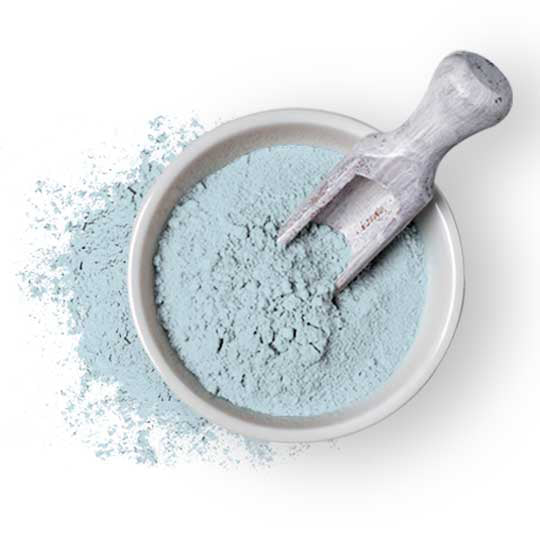 Our Certifications
Serbian/Cambrian Blue Clay
Serbian Blue Clay Powder is mineral-rich clay that is found in sedimentary deposits. Cambrian Blue Clay Powder possesses powerful medicinal and cosmetic properties. Natural Serbian clay has a unique blue color that comes from the algae and minerals present in it. This Clay contains micro as well as macro elements which benefit the skin in many ways. The detoxifying and extracting properties in this clay help flush away the toxins from the body's surface.
The essential elements present in Pure Cambrian Blue Clay powder have natural healing properties which help to nourish the skin and constructively heal skin issues like acne, pimples, blemishes, and even eczema. Organic Cambrian clay also helps to restore the skin's nutrients and improve its elasticity. The Serbian Clay Powder contains beneficial minerals which help in the regeneration of Skin Cells and maintain their youthful glow and shine.
The blue Cambrian Clay is ideal for making cosmetic products, and even skin healing products. You can even use this clay to DIY facial masks, Creams, Body wraps, and scrubs. Many Bathing products like Soap and bathing bars, shower gels, bath bombs, etc also use this skin-replenishing clay.
VedaOils offers the Premium-quality Serbian Blue Clay that will benefit your skin in boundless clay. Its formula and texture are perfect for including it in various DIY recipes. Our Cambrian Blue Clay Powder is completely chemical-free and toxins-free so it will be completely safe for your skin.
Cambrian Blue Clay Uses
Body Wraps
Serbian or Cambrian Clay body wraps effectively absorb the fluid-based impurities and toxins in the body that gets stuck between the skin cells and flush them from the body. Body wraps also work against various skin conditions.
DIY Face Mask
You can customize your DIY face mask at home by mixing the blue clay with your favorite ingredients according to your preference. Organic Cambrian Blue Clay mask will help in providing a natural glow to the skin.
Soap Making
Bathing bars and soap bars also use Serbian Blue Clay because it has skin-replenishing qualities. Natural Cambrian Blue Clay Power also contains natural blue colorant which looks very beautiful and luxurious in soaps.
Gentle Body Scrub
Organic Cambrian Blue Clay contains small particles and granules which act as a natural exfoliant. The grainy particles of clay are used to make body scrubs which help to gently exfoliate the body.
Manicure & Pedicure
Salons and spas use manicure and pedicure products which are made from Cambrian Blue Clay Powder ( Serbian ) because it helps to get rid of dead skin cells easily and makes skin soft and supple.
Bathing Products
Bath bombs, bath salts, bathing bars, and many other body and bathing products use Cambrian Blue Clay because it helps to rejuvenate and relax the body. It also makes the appearance of skin smooth and even.
Serbian Blue Clay Benefits
Blood Circulation
Application of Cambrian blue clay will result in a pulsating sensation on the skin which helps in stimulating blood circulation. This enhanced blood circulation will make the skin glowing and radiant.
Anti-aging Properties
Minerals and other essential nutrients present in this clay powder possess powerful anti-aging properties which help to reduce the appearance of wrinkles and fine lines. It also tightens the skin.
Restores Skin Nutrients
Blue Cambrian Blue Clay Powder is filled with essential mineral salts, micro, and macro-elements that nourish the skin and make it healthy. These nutrients refresh the skin making it soft.
Treats Various Skin Conditions
Anti-allergic and anti-bacterial properties in Cambrian Clay helps to treat various skin conditions like acne, eczema, psoriasis, and dermatitis. It also heals muscle and joint aches.
Youthful & Smooth Skin
Serbian Blue Clay helps to restore skin nutrition into the skin and it also effectively renews the epidermis by promoting cells regeneration which makes skin appearance youthful and smooth.
Cleanses Skin
Extracting and exfoliating properties in Cambrian Blue Clay helps to deeply cleanse the skin from within. It also attracts the dirt, grime, and sweat from the body and draws them out of the body.
Packaging Sizes
Please Note: The packaging shown above is a General Representation of the various sizes and types of packaging available for this product. Not all sizes and types of packaging for this product maybe available at all times.
Buy Serbian/Cambrian Blue Clay Powder at Wholesale Price
VedaOils is one of the largest bulk manufacturers, distributors, suppliers, and wholesalers of the Best-quality Serbian Blue Clay Powder in United Kingdom. Our mineral-rich and high-quality clay powder contain skin replenishing qualities that make the skin rejuvenated and healthy.
Blue Cambrian Clay Powder from VedaOils does not contain chemical, toxin, and alcohol-based ingredients. We do not even add any artificial colorant and fragrance in the manufacturing of Blue clay. It is also completely free from fillers, additives, or preservatives. This clay is also Vegan-friendly and Cruelty-free so it can suit all skin types.
Our Powdered Cambrian Blue Clay is sealed and packed in zip-lock Aluminium packs to avoid spills and damage during transit. Certain packaging standards and quality check measures are being followed while packing our finest quality Serbian Clay so that you can receive them in perfect condition at your doorsteps.
We at VedaOils offer our Cambrian Blue Clay Powder in packages of different quantities (100gm, 500gm, and 1kg) so that you can order them as per your needs from our website. We export our Serbian Clay in bulk quantities to various countries like The USA, Canada, Australia, etc. using our logistic partners DHL, FedEx Blue Dart, India Post, etc.
Frequently Asked Questions
WE NOTICE YOU ARE FROM
US & CANADA LOCATION