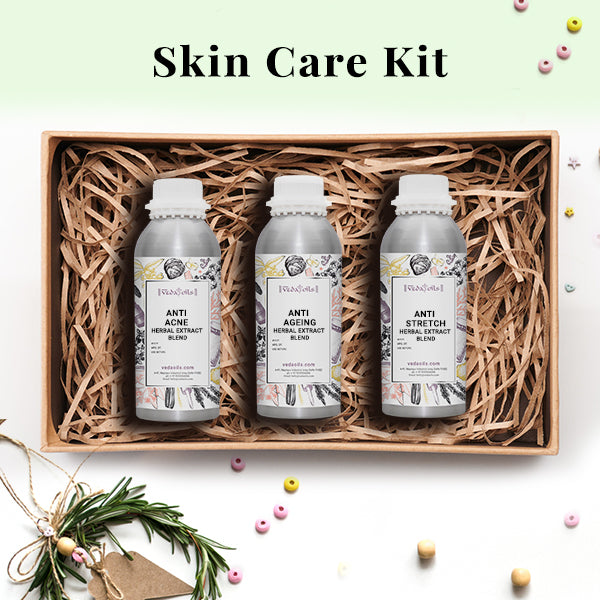 Our Certifications
Skin Care Wellness Kit
VedaOils SkinCare Kit is an exotic blend of vital skincare blends that has been particularly formulated for general skin nurturing and protection. Vedaoils Natural Skincare Gift Set contains nutrient-rich oils that Purify, Rebalance, and Cleanse your skin from inside.
Get clear skin by using all-natural skincare that will address all of your skin issues such as ageing, stretch marks, and acne. It significantly nourishes the skin while decreasing acne without stripping it. VedaOils has developed a Skin Care Kit that not only works to remove stretch marks, skin discoloration, and wrinkles but is also skin-friendly due to its organic properties.
How to Use Blends: Take a few drops of Herbal Blend on your palms and gently rub it in on the affected area. Massage in a circular motion & Apply little pressure using fingertips on the problematic areas.
Skin Care Kit Items
Anti Acne Herbal Extract Blend
Nourishes your skin while protecting it from sun damage and environmental contaminants that promote the growth of acne-causing bacteria. Anti Acne Blend absorbs impurities and excess oil, unclogging pores and eliminating black and whiteheads.
Anti-aging Herbal Extract Blend
Bid adieu to saggy and dull skin as this one-of-a-kind blend of biological herbs and extracts stimulates collagen creation in your skin cells, rejuvenating and nourishing your face. It fights wrinkles, fine lines, crow's feet, and other aging indicators.
Anti Stretch Marks Herbal Extract Blend
Natural components and botanicals ingredients of Anti Stretch Oil work together to keep skin tissues from tearing. Efficiently removes stretch marks, promises to reduce their appearance with continued usage.
Skin Care Kit - Uses & Benefits
Supports Skin Hydration
Natural ingredients present in Skincare Kit reduce trans-epidermal water loss, helping the skin to retain moisture better and stay hydrated for longer. Well-hydrated skin appears clear, smooth, and clean.
Enhances Skin Firmness
Natural components in Skin Care Kit help the skin seem firm and youthful by maintaining collagen synthesis levels to make skin more firm.
Prevents Sun Damage
Constant sun exposure dries down the skin, making it dull and lifeless, making it more susceptible to pollution and acne. Skin care starter kit prevents breakouts by shielding the skin from damaging UV radiation.
Remove Dead Skin
Skin care routine kit contains components that promote skin cell turnover by eliminating dead skin cells and promoting the creation of a new epidermal skin layer free of scars and imperfections.
Reduces Stretch Marks
Natural components present in Skin care kit are abundant in important nutrients that aid in the removal of stretch marks and other scars on the skin caused by acne or pimples.
Skin Calming
Skin care combo kits holds natural components that assist to heal acne, blemishes, and pimples. Furthermore, it inhibits the growth of acne-causing bacteria in closed pores.
Product Specifications
| | |
| --- | --- |
| Product Name: | Skin Care Kit |
| Brand: | VedaOils |
| Anti Acne Herbal Blend : | 100 Gm |
| Anti-aging Herbal Extract Blend : | 100 Gm |
| Anti Stretch Marks Herbal Extract Blend : | 100 Gm |
| Country of Origin: | India |
| Form: | Liquid |
| Alcohol-Free: | Yes |
| Usage/Application: | Acne Marks, Stretch Marks, Wrinkles |
| Storage: | Store in a Cool & Dry place. |
| Shelf Life: | 2 years |
Shop Skin Care Kit Online at Best Price
Say hello to the VedaOils skincare kit, which naturally nurtures, caresses, protects, and moisturizes your skin. This VedaOils skincare kit is completely devoid of chemicals, toxins, pollutants, and contaminants, making it ideal for all skin types. This kit is intended to provide your skin with all of the nutrients it requires. Buy VedaOils skincare kit and fall in love with your skin yet again!
Frequently Asked Questions
WE NOTICE YOU ARE FROM
US & CANADA LOCATION