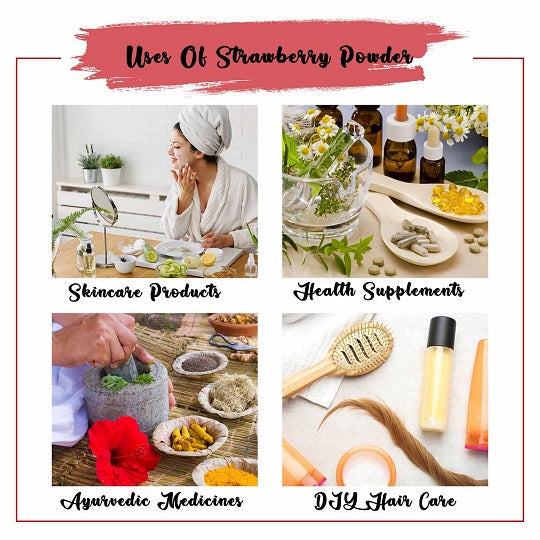 Our Certifications
Strawberry Powder
Strawberry Powder is made from fresh and ripe strawberries and does not contain any artificial fragrance or color. Instead, it is natural and includes the fresh and inviting fragrance of ripe and juicy strawberries. Strawberry Fruit Powder is a fine powder of pinkish-red color that can be used in many skincare and cosmetic applications.
Organic Strawberry Powder has been formulated only for topical applications. Therefore, do not consume it internally. However, Dried Strawberry Powder is known to have powerful anti-oxidizing properties, and it is packed with other nutrients that can prove healthy for your skin.
Strawberry powder is used mainly for applications that are meant for your face. It also helps you fight many skin issues, and it is completely safe as it does not contain any added preservatives or chemicals. You can use Strawberry Juice Powder in face masks, ointments, lotions, creams, moisturizers, soaps, liquid soap bases, and other skincare and cosmetic applications.
Natural Strawberry Powder is also used to add a fresh fruity, and inviting fragrance to your skincare applications, soaps, and other cosmetic products. Freeze Dried Strawberry Powder is packed with Vitamin C and, therefore, can be used in skin protection products. Due to being rich in antioxidants, it helps improve the tone of your skin and has a brightening effect. It also contains citric and malic acids that impart skin cleansing and exfoliating properties to this herbal powder.
Strawberry Powder Uses
Hair Fall Prevention
Our pure and natural Strawberry Powder contains ellagic acid that prevents hair fall and thinning. Therefore, it is widely used in manufacturing hair fall prevention formulas. You can also use it for making hair masks by mixing them with almond or coconut oil.
Reduces Dark Spots
Skin lightening properties of our best Strawberry Powder fades dark spots and makes your face appear fresh, radiant, and youthful. Due to these uses, it is often used in skin brightening creams as well. It also helps to reverse dull and listless-looking skin.
White Teeth
Strawberry Powder contains malic acid that is considered to be healthy for your teeth. It also helps to brighten the enamel of your teeth naturally and protects your teeth from stains. Makers of tooth care products can use it readily in their toothpaste and tooth powder.
Reduces Joint Pain
Polyphenols and other biologically active compounds are present in our natural Strawberry Powder to reduce muscle pain and stiffness. These compounds exhibit pain-relieving properties and help curb the inflammation due to joint pain.
Faster Recovery from Injuries
Presence of Folic Acid in Strawberry Powder supports the regeneration of new skin cells. As a result, it can be used to promote faster recovery from injuries. The rich content of vitamin C keeps your skin healthy and younger by stimulating the production of collagen.
Protection from UV rays
Our organic freeze dried strawberry powder protects your skin from UV rays. This is possible due to the powerful antioxidants that are present in this powder. Makers of skin protection and sunscreen lotions can use these properties in their products.
Strawberry Powder Benefits
Hair Growth
Our organic Strawberry Powder is rich in Vitamin C that promotes the absorption of iron, and supports hair's overall health and growth. It also prevents brittleness of hair and can be used for the treatment of dandruff. Vitamin C also nourishes your hair and scalp naturally.
Tones Face
Vitamin C and polyphenols helps to tighten the skin pores, eventually resulting in toned skin. Due to this, the issues like fine lines and wrinkles also get minimized, and organic freeze dried strawberry powder also proves to be soothing and nourishing for your face.
Bones Healthy
Our raw and best Strawberry Powder is loaded with potassium, manganese, vitamin K, and calcium that are important for maintaining the health of your bones. The antioxidants present in this powder support bone health and prove beneficial for your muscles and joints.
Healthy Face
Strawberry Powder can be used for making high-quality face masks that keep oils and other toxins away. The antioxidants present in this powder protect your skin from harmful free radicals. The acidic nature of this powder will keep the sebum production in check to keep your skin healthy.
Acne Treatment
You can blend our best Strawberry Fruit Powder with fresh cream or yogurt and apply it to your face to get rid of acne. The ability of our organic Strawberry Powder to control sebum and excess oils helps keep acne in check and prevents the formation of breakouts.
Heals Puffy Eyes
If you are suffering from puffiness around the eyes, you can apply our raw and pure Strawberry Juice Powder to get instant relief. The astringent properties and powerful antioxidants present in it reduce puffiness, and its anti-inflammatory properties reduce the irritation of the skin.
Product Specifications
| | |
| --- | --- |
| INCI Name: | Fragaria Spp |
| Raw Material Source: | Strawberries |
| Manufacturing Process: | Fresh strawberries are thoroughly washed and then dried by freezing them. The dried strawberries are then ground and processed to obtain a fine powder of pinkish-red color powder. |
| Tested On Animals?: | No |
| GMO: | GMO-free but not certified for it. |
| Vegan: | Vegans can use it because it does not contain any animal-derived components. |
| Shelf Life: | 2 years |
CAUTION: It is meant for external purposes. Keep it away from the reach of your kids and avoid direct contact with eyes
Packaging Sizes
Please Note: The packaging shown above is a General Representation of the various sizes and types of packaging available for this product. Not all sizes and types of packaging for this product maybe available at all times.
Buy Strawberry Powder Online in UK at Best Price
Vedaoils is one of UK's prominent manufacturers, suppliers, & wholesale distributors of Strawberry Powder and other herbal powders. Our products are trusted all over United Kingdom for their high quality and purity. No artificial colours, preservatives, or fragrances are added while making Strawberry Powder.
We perform numerous tests and quality checks to ensure that only the premium quality Strawberry Powder reaches you. We also employ the highest quality and delivery standards to supply the desired results of our Strawberry Powder. Shop Strawberry Powder Online for industrial use, Pottery, Skincare products, Soap Making, Hair care products, and other uses through Vedaoils' Online Portal at affordable prices.
Vedaoils Strawberry Fruit Powder is 100% organic and contains all these qualities. Our portal uses a secure payment gateway to run smooth and safe transactions. Order Strawberry Powder online through Vedaoils' shopping portal according to your requirements. We deploy high-standard delivery to ensure that the best quality product reaches you in time.
We export Strawberry Powder in bulk quantities to The USA, Canada, Australia, and many more countries using our logistic partners DHL, FedEx Blue Dart, India Post, etc. You can also buy Strawberry Juice Powder in Bulk at wholesale prices from us. We offer discounts and wholesale rates for bulk purchases. Leave a query in our Bulk Enquiry section to order Strawberry Powder at the lowest price in UK. We export Strawberry Powder in bulk quantities to The USA, Canada, Australia, and many more countries using our logistic partners DHL, FedEx Blue Dart, India Post, etc.
Frequently Asked Questions
WE NOTICE YOU ARE FROM
US & CANADA LOCATION