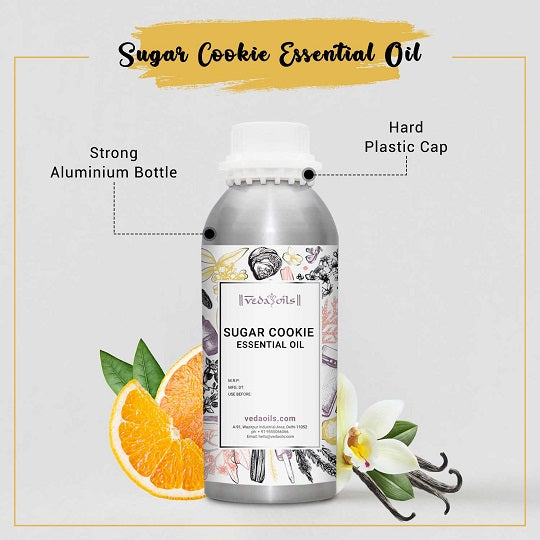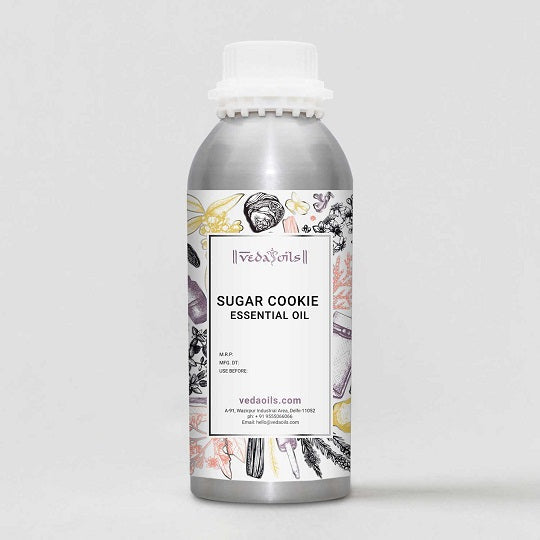 Our Certifications
Sugar Cookie Essential Oil Blend
An essential oil blend with a cookie scent? Yes, it is indeed possible! This is the blend for you if you enjoy gourmand scents. Sugar cookies have a delectable aroma of sugar, warm vanilla, and decadent, buttery dough, with a hint of sweetness from sugary frosting. This Sugar Cookie Essential Oil blend evokes exactly that! The scent of the cookies is enough to make you swoon. The blend smells exactly like freshly baked sugar cookies, that can be diffused in minutes. Furthermore, it is all-natural and free of potentially harmful ingredients found in any other essential oil.This phthalate-free oil is ready to diffuse or add to your candle, soap, bath, body, or hair care formulations.
Sugar Cookie Essential Oil Ingredients
Sugar Cookie Essential Oil Uses & Benefits
Perfume and Room Freshener
The calming and invigorating scent of sugar cookie essential oil can be used to make body mist, perfume, deodorants, and room fresheners that quickly settle on the body and linger the sweet and delectable aroma throughout the day.
Soap Making
The sweet, sugary and buttery perfume of sugar cookie essential oil makes it ideal for use in the creation of scented soaps, bath bombs, and other DIY products. It can be used to make both melt-and-pour and cold-process soap.
Candle Making
Sugar cookie essential oil's classic sweet aroma makes it ideal for candle making. Vanilla and sweet orange essential oils mystic, sweet aroma and tangy notes lift and energize the mood while also creating a peaceful and cozy atmosphere.
Packaging Sizes
Please Note: The packaging shown above is a General Representation of the various sizes and types of packaging available for this product. Not all sizes and types of packaging for this product maybe available at all times.
Buy Sugar Cookie Essential Oil Blend In UK at Low Price
If you are looking for a rejuvenating and refreshing oil that makes the atmosphere lively and cheerful, then Sugar Cookie Essential Oil Blend is for you. VedaOils is one of the leading manufacturers and suppliers of pure essential oils, essential oils blends, and other natural raw materials In United Kingdom. Our Sugar Cookie Essential Oil is a beautiful concoction of pure essential oils beneficial for your health and overall well-being.
VedaOils' Sugar Cookie Oil Blend is prized for its ability to calm and relax your mind and uplift your mood. When it comes to preparing the essential oils blends our experts stick to our long live organic roots and prepare a remedy that is so versatile in use. We provide premium quality pure Sugar Cookie Oil at the best price in United Kingdom.
Buy Pure Sugar Cookie Oil Blend online through our online shopping portal. Our portal uses a smooth transaction process, and our customer care services are available to help you out shopping or getting the answer to your queries.
We deliver our Sugar Cookie Oil Blend all over United Kingdom and in other countries using our logistic partners DHL, FedEx, BlueDart, India Post, etc. We ensure you that our Therapeutic Grade Sugar Cookie Oil Blend is completely free from any additives. To manufacture our Sugar Cookie Oil Blend, we do not use any colored tints, preservatives, fragrances, or chemically infused ingredients. Use our products without hesitation!
Frequently Asked Questions