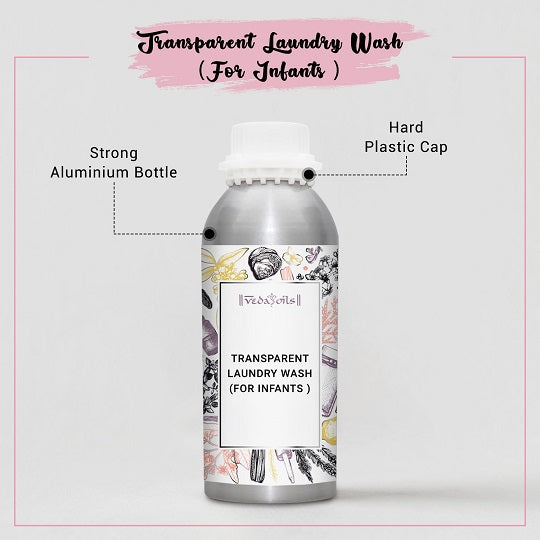 Our Certifications
Sulphate Free Transparent Laundry Wash (For Infants)
Made with natural Neem extracts and other ingredients, this Sulphate-Free Transparent Laundry Wash is formulated for washing clothes and diapers of infants. It is a thoroughly tested product and is completely free from harsh chemicals. Therefore, it is gentle and safe for your baby's skin. The herbal green aroma of this laundry wash eliminates foul odour from the clothes and gives them a fresh and soothing fragrance. As it is free from sulphate and other harmful chemicals, you may use it for cleaning the apparels of your baby without any issues.
Transparent Laundry Wash (For Infants) Ingredients
Decyl Glucoside
Excellent foaming and cleansing properties of Decyl Glucoside make it an effective ingredient in laundry wash products. Also, as it is a mild and safe ingredient, it is suitable for laundry wash products that are formulated for infants.
Sorbitan Caprylate
Prepared from Sorbitol, Sorbitan Caprylate is used as a stabilizer and also works as a thickener in our transparent laundry wash. Its emulsifying properties make it an ideal ingredient in laundry detergents.
CDEA
Cocamide Diethanolamine or CDEA is used to enhance the foaming properties of our transparent laundry wash for infants. It enhances detergents' dispersing and wetting properties and is also biodegradable and safe.
Propanediol
Obtained from corn sugar, propanediol works as a preservative and also improves the solvent properties of our transparent laundry wash. It is safe for topical use and is gentle enough to be used for laundry detergents formulated for babies.
Glycerin
Glycerin prevents the skin from becoming rough and dry when added to products like hand washes. It is a natural emollient that is obtained from plant oils. Glycerin also gives a transparent quality and keeps the ingredients together in the finished products.
Neem Extract
Neem Extract is obtained from Neem leaves. It consists of antibacterial and antifungal properties that are effective against a wide range of bacteria, fungus, and other microorganisms. Moreover, Neem Extract is safe and healthy for the skin of infants.
Packaging Sizes
Please Note: The packaging shown above is a General Representation of the various sizes and types of packaging available for this product. Not all sizes and types of packaging for this product maybe available at all times.
Buy Sulphate Free Transparent Laundry Wash (For Infants) at Wholesale Prices
VedaOils specializes in providing top-quality ingredients to facilitate easy manufacturing of laundry wash solutions. Our Sulphate Free Transparent Laundry Wash (For Infants) is pure, natural, and chemical-free. It is available in bulk and commercial manufacturers can benefit from the bulk rates and discounts we are offering to our customers.
We aim to facilitate high-quality natural supplies at cost-effective rates to startups and small-scale organizations. With the strong backing of logistic partners and suppliers, we will never fail short of your expectations in terms of delivery and packaging. Connect with us online through our official website and we will be pleased to assist you through your first order.
Frequently Asked Questions
WE NOTICE YOU ARE FROM
US & CANADA LOCATION