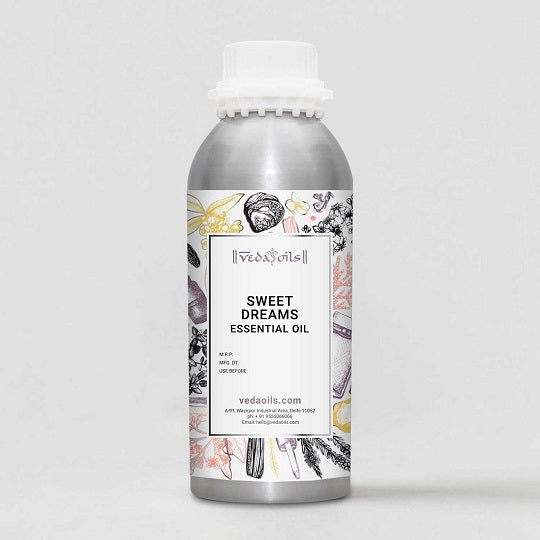 Our Certifications
Sweet Dreams Essential Oil Blend
As this dreamy blend of aromatics relaxes both body and mind, drift off to sleep. A deeply earthy sedative aroma not only helps you fall asleep faster but also improves the quality of your sleep. After a night of deep restorative slumber, you will feel energized. Sweet Dreams Essential Oil blend relieves insomnia by relaxing the mind and body. It has an earthy floral aroma and is made up with a blend of Cedarwood, Chamomile, Sweet Orange, and Vetiver Essential Oils. This essential oil blend can be used as part of the ultimate bedtime routine as you prepare to sleep. Whether you use a few drops on your pillow or as essential oil diffuser blends, this aromatherapy blend is suitable for both adults and children.
Sweet Dreams Essential Oil Blend Ingredients
Cedarwood Essential Oil
Antispasmodic properties of Cypress Essential Oil can provide relief from muscle stress, spasms, and convulsions. Athletes can massage their bodies with this oil regularly to reduce muscle cramps and spasms.
Sweet Orange Essential Oil
Soothing, sweet, and tangy fragrance of orange essential oil will elevate your mood by reducing stress. It helps relax your mind and calm your senses after a busy day.
Chamomile Essential Oil
Chamomile Essential oil contains stress-relieving and therapeutic properties. You can use this oil in aromatherapy to relieve stress and enhance better concentration. You can inhale or take it by diffusing it before starting your day to remain calm and focused.
Sweet Dreams Essential Oil Uses & Benefits
Relieves Stress
Stress and anxiety can keep your mind racing and your body tossing and turning, making it difficult to fall asleep. This soothing blend calms your mind and relaxes your body before sleep, enveloping you in peaceful, protective energy.
Promotes Sleep
This natural, mind-body therapy, using essential oils known for their sedative properties, emits a cloud of pure tranquility that soothes and calms the senses while lulling them into a state of blissful serenity inducing better sleep.
Refreshes Mood
After a night of uninterrupted, sound but refreshing sleep, awake rested and restored with renewed energy. The Sweet dreams blend calms nerves while encouraging a positive outlook, promoting rest and relaxation.
Product Specifications
| | |
| --- | --- |
| Product Name: | Sweet Dreams Essential Oil |
| Brand Name: | VedaOils |
| Country of Origin: | India |
| Form: | Liquid |
| Color: | Yellowish |
| Odor: | Real, Zesty fruit & Peel. |
| Consistency: | Light |
| Packaging Type: | As Per Requirement |
| Ingredients: | Cedarwood Oil, Himalayan Oil, Sweet Orange Oil, Chamomile Roman Oil, and Vetiver Oil |
| Shelf Life: | 2 years |
| COA: | |
| MSDS: | |
Packaging Sizes
Please Note: The packaging shown above is a General Representation of the various sizes and types of packaging available for this product. Not all sizes and types of packaging for this product maybe available at all times.
Buy Sweet Dreams Essential Oil Blend In UK at Low Price
If you are looking for a rejuvenating and refreshing oil that makes the atmosphere lively and cheerful, then Sweet Dreams Essential Oil Blend is for you. VedaOils is one of the leading manufacturers and suppliers of pure essential oils, essential oils blends, and other natural raw materials. Our Sweet Dreams Essential Oil is a beautiful concoction of pure essential oils beneficial for your health and overall well-being.
VedaOils' Sweet Dreams Oil is prized for its ability to calm and relax your mind and uplift your mood. When it comes to preparing the essential oils blends our experts stick to our long live organic roots and prepare a remedy that is so versatile in use. We provide premium quality pure Sweet Dreams Essential Oil Blend at the best price in United Kingdom.
Buy Pure Sweet Dreams Blend online through our online shopping portal. Our portal uses a smooth transaction process, and our customer care services are available to help you out shopping or getting the answer to your queries. We deliver our Sweet Dreams Blend all over United Kingdom and in other countries using our logistic partners DHL, FedEx, BlueDart, India Post etc.
We ensure you that our Therapeutic Grade Sweet Dreams Essential Oil is completely free from any additives. To manufacture our Sweet Dreams Blend, we do not use any colored tints, preservatives, fragrances, or chemically infused ingredients. Use our products without hesitation!
Frequently Asked Questions
WE NOTICE YOU ARE FROM
US & CANADA LOCATION