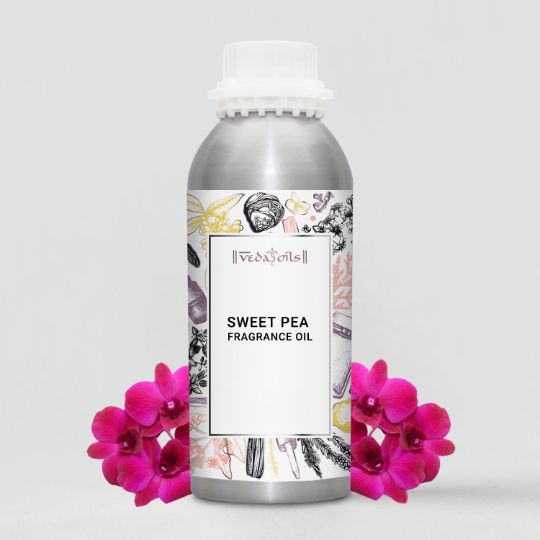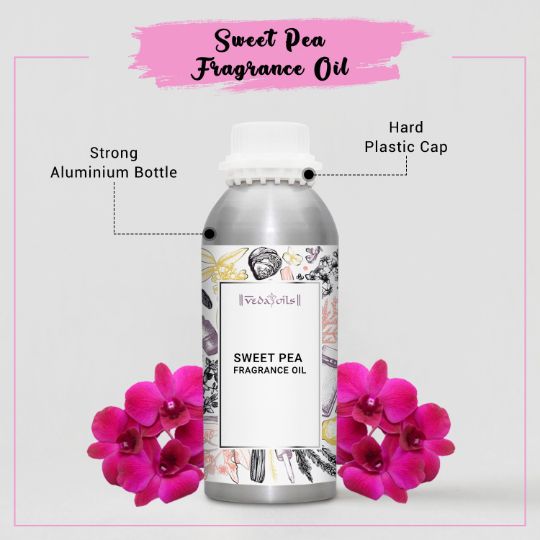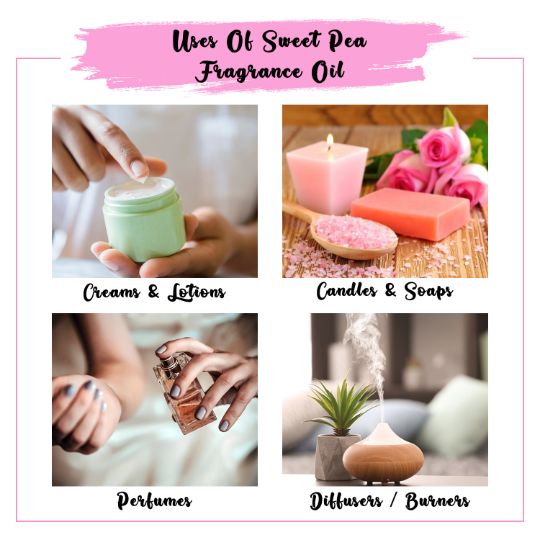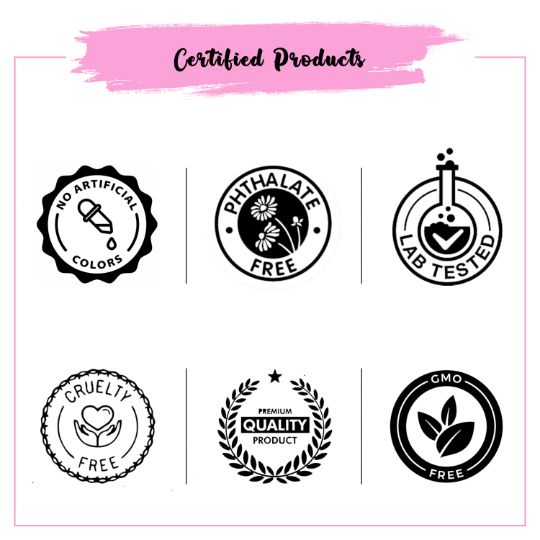 Our Certifications
Sweet Pea Fragrance Oil
Sweet Pea fragrance oil has a sweet, warm, and powdery musk smell. Sweet Pea perfume oil consists of all the natural ingredients such as vanilla, patchouli, styrax, benzoin, etc. The Sweet Pea fragrance oil is used to create oriental fragrances that exhibit a rich, powdery, and spicy feel. The Sweet Pea scent would make you lost in its mesmerizing scent.
Captivating fragrance of the Sweet Pea Wood Scented Oil makes the atmosphere completely refreshing and delightful. The oil has an enticing aroma that reduces anxiety and relaxes the mind and body. The fragrance of the oil can be used in various applications such as candles, soaps, moisturizers, perfumes, and many more skincare and haircare products.
Sweet Pea Fragrance Oil Uses & Benefits
Soap Making
Soap and bathing bars can be made using sweet pea fragrance oil. It smells energizing and appealing. This fragrance oil can be used to create cold-pressed soaps as well as melt-and-pour soap bases. The fresh aroma makes it suitable for use on hot days
Scented Candles
Due to its musky and floral scent, sweet pea fragrance oil is ideal for use in the creation of scented candles to create a relaxing and restful ambiance. These candles have a strong aroma that immediately fills the room with a fresh, clean scent.
Air Fresheners
The delicious, fresh scent of sweet pea fragrance oil works as an air and room refresher when it is combined with carrier oils and diffused into the air. This can get rid of any potentially dangerous bacteria and clear the air of any unpleasant odors.
Skin Care Products
The revitalizing and reviving perfume of lilies, sweet pea and fresh fruits are added by the sweet pea fragrance oil to scrubs, moisturizers, and other skincare products. These products are absolutely safe to use on the skin.
Cosmetics Care
The reviving and skin-loving scent of roses, lavender, sweet pea and lilies can be added to products like toners, moisturizers, face washes, face packs, and other things using sweet pea fragrance oil.
Incense Sticks
Light agarbatti or incense sticks infused with organic sweet pea fragrance oil to emit the alluring aroma of blossoming flowers. These eco-friendly incense sticks will add a musky, powdery, and sweet undertone to your space.
How to Use Sweet Pea Fragrance Oil
Aromatic Candle: Make the sweet-scented candles by imbuing them with comforting Sweet Pea fragrance oil from VedaOils. You only need to mix 2 ml of fragrance oil for 250 grams of candle wax flakes and let it sit for a few hours. Make sure to measure the quantities accurately so that, the fragrance of the candle doesn't bother sensitivities.

Relaxing Aromatic Bath: Peaceful aromatic bath in a bathtub helps to calm the mind and body. For the most amazing aromatic bath, just simply add 5-6 drops of Sweet Pea fragrance oil in a bathtub having lukewarm water. Henceforth, enjoy the aromatic bath.

Scented Soap Making: A creamy scented soap bar is appreciated by everyone using it. Simply, make the scented soap bar by adding 5 ml of Sweet Pea fragrance oil in a 1 kg soap base and letting it sit for a day. Enjoy the good scented soap that provides you with a luxurious bathing experience.

Skin Care and Cosmetic Products: Sweet-scented cosmetic and skincare products are liked by all their buyers. Make sure to use Sweet Pea fragrance oil in very little proportion so that it doesn't react to the skin and give your products a likable refreshing smell.
Tip: Use the fragrance oil in calculated quantities so that, there would not be any skin irritations or reactions. Also, conduct the necessary tests and patches before you apply any of the products directly to your skin.
Product Specifications
| | |
| --- | --- |
| Product Name: | Sweet Pea Fragrance Oil |
| INCI Name: | Lathyrus odoratus |
| Country of Origin: | India |
| Foam: | Liquid |
| Aroma: | Fresh, Earthy, and Sweet Floral fragrance |
| Suitable for: | Bath Bombs, Lipsticks, Lip Balms, Facial and Body Scrubs, Creams, Perfume Oils |
| Packaging Type: | As per requirement |
| Storage: | Store in a Cool & Dry place. |
| Shelf Life: | 2 years |
| COA: | |
| MSDS: | |
Packaging Sizes
Please Note: The packaging shown above is a General Representation of the various sizes and types of packaging available for this product. Not all sizes and types of packaging for this product maybe available at all times.
Buy Sweet Pea Fragrance Oil In Uk
Sweet pea fragrance oil from Vedaoils resembles an English garden with undertones of subtle herbal and musky notes and aromas of wild jasmine, violets, lily of the valley, and hyacinth. It has a scent that blends green ivy with a lovely flower bouquet in the United Kingdom. The top notes are Lily of the Valley, fresh flowery, sweet peas, and a delicate pear. A symphony of hyacinth, rose, gardenia, carnation, and lavender compose the fragrance's core. Violet, mild coconut, and a soft, lingering musk make up the base notes.
Due to its calming, fresh air-like nature, this scent will go best in a home. Although sweet pea fragrance oil is used in many different goods, some of its most common applications include soaps, scents, potpourri, and cosmetics. Due to its floral, fresh, and musky perfume is also used in diffusers, air fresheners, scented candles, incense, and many other goods.
With its classic floral aroma, different flowers can welcome spring into your home year-round with their many natural scents. VedaOils' premium sweet pea fragrance oil is entirely made of natural components and does not contain any additives that have been synthetically infused. The thrilling freshness, perfect for kitchens and open spaces, gives every occasion a bright, spring-summery vibe. We export Sweet pea fragrance oil to the US, Canada, Australia, and worldwide. Our products follow the highest standards when it comes to quality and purity. Your orders are delivered to your doorstep, so you don't have to worry about going outside. We assure you that you will not regret choosing us! We also deliver the products worldwide using our logistic partners DHL, FedEx, Blue Dart, India Post, etc. Get great cashback, combo offers, deals and discount offers while buying Sweet pea fragrance oil online from the VedaOils store.
Frequently Asked Questions
WE NOTICE YOU ARE FROM
US & CANADA LOCATION