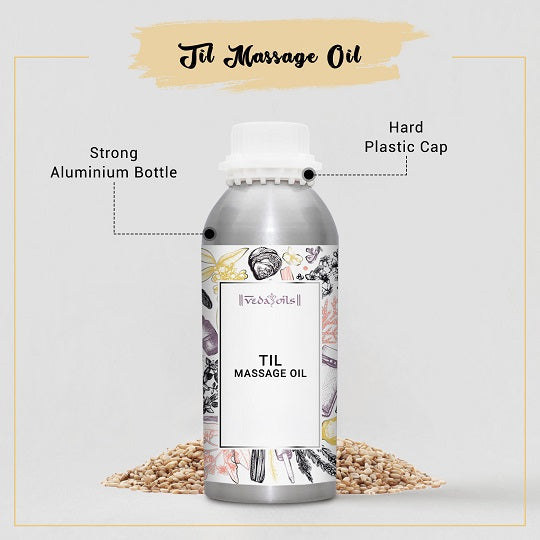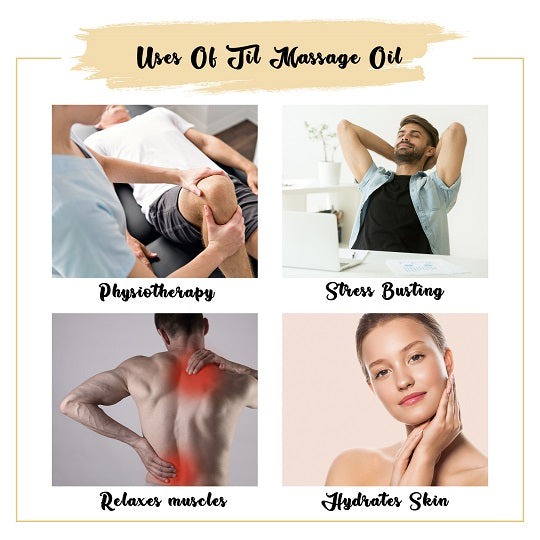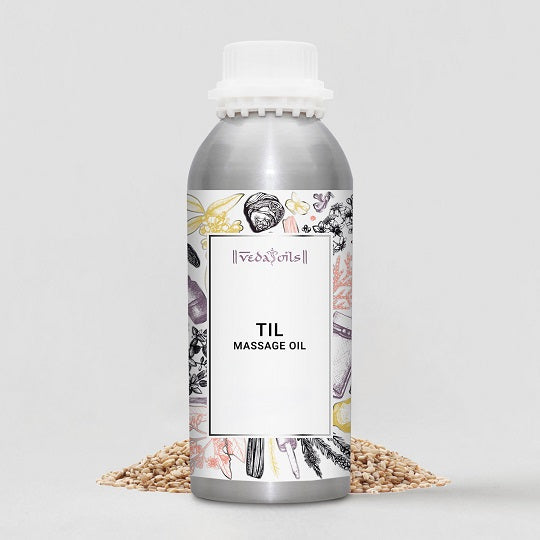 Our Certifications
Til Body Massage Oil
Til Body massage oil is made from raw or toasted sesame seeds. Til oil strengthens the physical, mental, and emotional well-being of our bodies. The deep massage using sesame oil also allows us to reunite with our own bodies and with nature, in order to create harmony, heal and rejuvenate. Considering its many uses and health benefits, sesame seed oil has sometimes been referred to as the Queen of Oils.
Til seed Body oil contains plenty of minerals, including magnesium, zinc, copper, calcium, and manganese, which help to reduce inflammation and pain. Besides this, its minerals help strengthen blood vessels, bones, and joints. Massages using this oil can also reduce the appearance of stretch marks, reduce age spots, and protect the skin against aging from its antioxidant and antiseptic properties.
Vitamin A, B, E, and a wide variety of minerals are contained in this oil, preventing the skin from taking on harmful effects from the environment. Massaging the skin with this oil increases blood circulation, leaving the skin soft and supple. Oil treatments are great for hair that has been heat-damaged. This oil works to remove dandruff and serves as a deep conditioner. This oil can also help to prevent tanning and UV damage.
Til Body Massage Oil Benefits
Enriched with Fatty Acid
Sesame body massage oil, fatty acids are present in abundance, which are required to maintain the health of our skin, hair, and nails. Vitamin E is one of the most common types of fatty acids found in sesame seed oil. Til seed massage oil is also a natural moisturizer thanks to its fatty acid composition.
Reduces Inflammation
Natural pain reliever, Sesame Massage Oil can help combat aches and pains. The sesame seed oil contains nutrients such as magnesium, zinc, copper, calcium, manganese, and other potent anti-inflammatory compounds that prove to lower swelling and inflammation.
Prevents Sunburn
In addition to protecting the skin from harmful ultraviolet rays, sesame oil provides essential moisture to the skin, preventing it from tanning and rashes caused by sunburn. Therefore, regular use of sesame oil can protect the skin from scorching sun rays.
Reduces Anxiety
Sesame Seed Massage Oil affects the brain directly, improving mood by stimulating enzymes and hormones that activate the feelings of happiness and relaxation. Tyrosine, present in sesame oil, acts directly on the brain to increase serotonin activity, thus decreasing anxiety.
Improves Blood Circulation
Til Massage Oil is exceptionally high in copper, one of the nutrients responsible for the formation of red blood cells, which is why it is beneficial for blood circulation. During a sesame seed oil massage, copper is absorbed into the body. Copper is absorbed through the skin and making the body's functions and circulation more efficient.
Powerful Antioxidant Properties
Sesamol and sesamin, antioxidants present in sesame massage oil, prevent the appearance of wrinkles and small pores on the skin, and while enhancing the skin's elasticity it also helps promote collagen production. It also soothes rashes and fades scars because of its vitamin E and B complex.
Product Specifications
| | |
| --- | --- |
| Product Name: | Til Body massage oil |
| Brand: | VedaOils |
| Country of Origin: | United Kingdom |
| Foam: | Liquid |
| Color: | Light Yellow To Dark Yellow |
| Aroma: | Minty |
| Alcohol-Free: | Yes |
| Usage/Application: | Body Massage / Aromatherapy |
| Packaging Type: | As per requirement |
| Storage: | Store in a Cool & Dry place. |
| Shelf Life: | 2 years |
CAUTION: It is meant only for external use. Do a patch skin test before applying it to your skin. Dilute it before topical application. Avoid direct exposure to sunlight. Pregnant women should consult a doctor before using it.
Packaging Sizes
Please Note: The packaging shown above is a General Representation of the various sizes and types of packaging available for this product. Not all sizes and types of packaging for this product maybe available at all times.
Buy til Massage Oil Online In UK at Low Price
VedaOils is one of the leading Wholesale Suppliers, Manufacturer, and Exporter of the Best Til Body Massage Oil and other Essential oil in United Kingdom. We offer the purest forms of natural oils to our customers. No chemicals, additives, or fillers are added to them. They also do not contain any artificial colors, preservatives, and fragrances. Therefore, they prove to be ideal for daily use. We employ numerous tests and quality checks to ensure that only Premium-quality and Til Seed massage Oil reaches you.
The highest quality and packaging standards are employed to deliver desirable results on usage. Also, our portal uses a secure payment gateway to safeguard your transactions. Buy Til massage Oil from VedaOils Online according to requirements at the best competitive prices in the market. You can order this oil as per your body's requirements and needs.
We export our high-quality massage oils to the US, Canada, Australia, and other countries. Our products follow the highest standards when it comes to quality and purity. We assure you that you will not regret choosing us! We also deliver the products worldwide using our logistic partners DHL, FedEx Blue Dart, India Post, etc. So do not miss this excellent opportunity to buy chemical-free and multi-purpose Til Seed Body massage Oil from VedaOils.
Frequently Asked Questions
WE NOTICE YOU ARE FROM
US & CANADA LOCATION