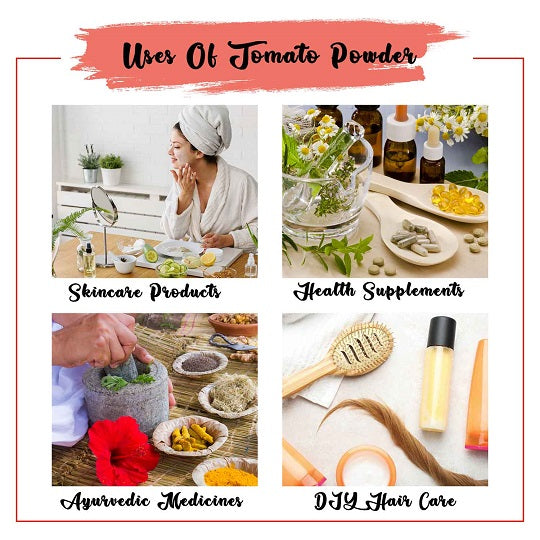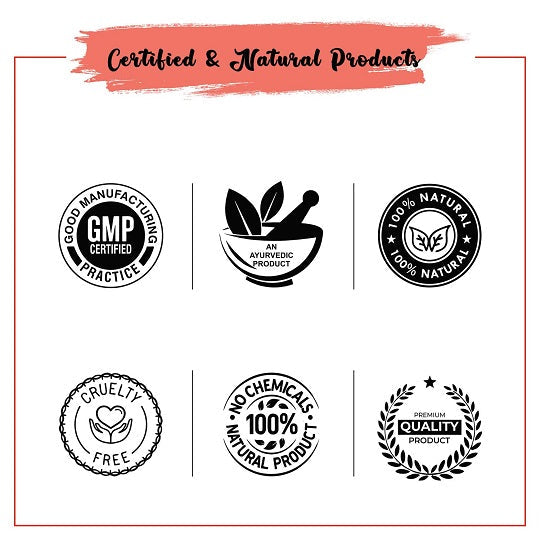 Our Certifications
Tomato Powder
Tomato Powder is made from fresh and organically grown tomatoes. It is mostly used in skincare products due to its emollient and anti-aging properties. It is a natural moisturizer that also adds a healthy glow to your skin if you incorporate it into your regular skincare regime. Tomato powder is rich in Vitamin C which is the main source of antioxidants that protect your skin from pollution and sun damage. It is rich in potassium, magnesium, Vitamin B, and Vitamin A which prove to be beneficial for the overall health of your skin.
Organic Tomato Powder is used to soothe sunburns and its Anti-inflammatory Properties make it capable of healing wounds and skin infections. Moreover, tomato powder also can cleanse your skin. It is available in the form of fine powder and has a nice red color to it. The odor is similar to the aroma of fresh tomatoes. We have taken care to employ the highest standards of purity and quality while manufacturing tomato powder. No chemicals or additives are added to tomato powder which makes it herbal and organic. Therefore, it is safe to use and you can include it in your regular beauty and skincare regime.
Tomato Powder has Exfoliating Properties that help you to eliminate toxins and dead skin cells. Eventually, this improves the overall health and condition of your skin. Face masks, scrubs, serums, moisturizers, body washes, face washes, and other cosmetic and skincare products contain Tomato powder as one of the primary ingredients. Tomato Powder is made from all natural pure sweet tomatoes and used as a thickener for stews, soups, sauces.
Tomato Powder Uses
Anti-aging Solutions
Powerful antioxidants that are present in the Dried Tomato powder due to the rich content of vitamin C help to diminish the fine lines and wrinkles effectively. Makers of anti-aging creams use powdered tomato in their products on a large scale. It boosts collagen production and keeps your skin youthful.
Skin Lightening Creams
Astringent properties of our natural Tomato Powder work to freshen up dull and old-looking skin. Tomato powder brightens up your skin tone and is often used in skin lightening and face brightening creams due to these reasons. It rejuvenates your skin deeply and leaves a fresh feeling as well.
Hair Loss Prevention Formulas
Pure Tomato Powder is often used in hair loss prevention formulas due to its ability to stimulate hair growth and strengthen hair roots. The vitamins present in dehydrated tomato powder work to reduce hair loss to a great extent and they also provide a healthy shine to your hair strands.
Hair Masks
Our pure sun dried Tomato Powder proves to be an active ingredient in hair masks that are formulated to promote hair growth. Vitamin A, C, E, and B that are present in Tomato Powder boost the growth of hair follicles. They help to maintain the texture and overall health of your scalp and hair.
Wound Healing Creams
Vitamin C plays a vital role in regenerating new skin cells and this helps in recovering from wounds, cuts, and bruises. Our best Tomato Powder is used for formulating wound healing creams and ointments. The main reason behind this is the ability of Tomato powder to boost the creation of connective tissues.
Skin Cleansers
Natural Tomato Powder acts as a powerful skin cleanser that makes it a useful ingredient for making body cleansers, face washes, face scrubs, and similar products. The exfoliating effects of Dehydrated Tomato powder eliminates dead skin cells, dirt, dust, and other impurities from your skin.
Tomato Powder Benefits
Soothes Sunburns
Tomato Powder plays a significant role in maintaining the overall health of your skin as it contains magnesium, vitamins, potassium, and other nutrients. It soothes sunburns and its powerful anti-inflammatory properties prove to be effective in healing skin infections as well. It reduces the appearance of scars and blemishes on your face.
Moisturizes Skin
Nutrients and emollient properties of our organic Tomato Powder help to moisturize your skin. You may apply skin packs containing this powder for healing cracked, flaky, and itchy skin. It proves to be effective against skin dryness and the presence of potassium helps your skin to remain safe from issues like eczema and dermatitis.
Dark Spot Removal
When you incorporate Tomato Powder regularly in your face care routine, it helps to keep dark spots and uneven skin tone away. The face packs that contain Tomato Powder as one of the key ingredients can be applied to the face for this purpose. It also helps to restore the natural radiance and glow of your face.
Acne Prevention
People who incorporate our pure Tomato Powder in their face care regime do not experience issues like acne and pimples. Dried Tomato powder does so by controlling the oil production in the skin pores. It is especially beneficial for acne prevention when used in combination with Tea Tree essential oil.
Makes Firm Skin
Organic Tomato Powder can be used as a home remedy to tighten skin pores. Tomato reduces the size of your skin pores and prevents the formation of breakouts. This is possible due to the astringent qualities of sun dried tomato powder and works faster when blended with fresh lemon juice.
Calms Skin
Women who use a lot of cosmetic and makeup applications often experience irritation or redness of the skin. Application of skin masks containing our natural Tomato Powder can calm the skin and provide instant relief from all kinds of skin inflammation. It works well when blended with cucumber juice.
Product Specifications
| | |
| --- | --- |
| INCI Name: | Solanum Lycopersicum |
| Raw Material Source: | Fresh and ripe tomatoes |
| Manufacturing Process: | Tomatoes are first to cut into slices and then dried to remove moisture content from them. After that, they are processed and ground to form a fine powder. |
| Tested On Animals?: | No |
| GMO: | GMO-free but not certified for it. |
| Vegan: | Vegans can use it because it does not contain any animal-derived components. |
| Shelf Life: | 2 years |
CAUTION: It is meant for external purposes. Keep it away from the reach of your kids and avoid direct contact with eyes
Packaging Sizes
Please Note: The packaging shown above is a General Representation of the various sizes and types of packaging available for this product. Not all sizes and types of packaging for this product maybe available at all times.
Buy Tomato Powder Online in UK at Low Price
VedaOils is one of the prominent manufacturers, suppliers, & wholesale distributors of Tomato Powder and other herbal powders in United Kingdom. Our products are trusted all over UK for their high quality and purity. No artificial colours, preservatives, or fragrances are added while making tomato powder. Hence our sun dried tomato powder is 100% natural and organic.
Order Pure Tomato powder online through VedaOils' shopping portal according to your requirements. We deploy high standard delivery to ensure that the best quality product reaches you in time. Tomato powder is now available in packets of 100gm, 500gm, 1kg, and 5kg.
You can also Buy Tomato Powder in Bulk at wholesale prices from us. We offer discounts and wholesale rates for bulk purchases. you can leave a query in our Bulk Enquiry section to buy organic tomato powder at the best price in UK. We export tomato Powder in bulk quantities to The USA, Canada, Australia, and many more countries using our logistic partners DHL, FedEx Blue Dart, India Post, etc.
Frequently Asked Questions
WE NOTICE YOU ARE FROM
US & CANADA LOCATION