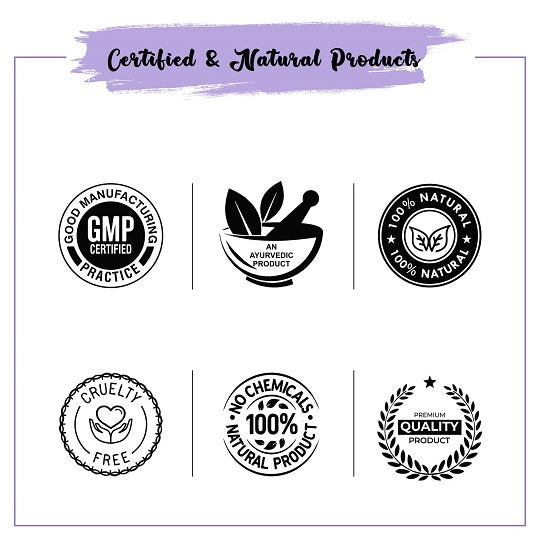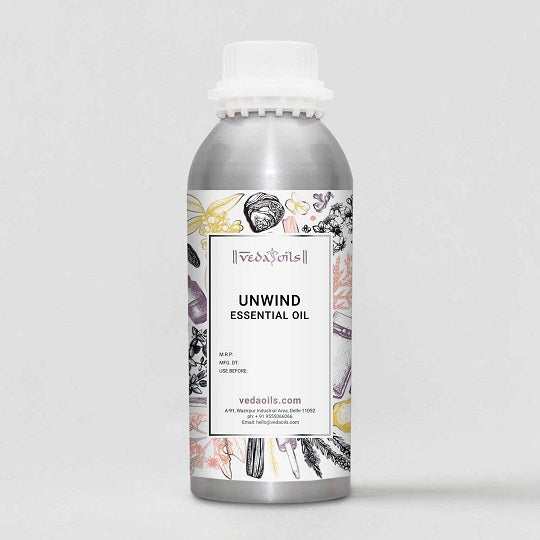 Our Certifications
Unwind Essential Oil Blend
Create a quiet and peaceful atmosphere with the aid of Unwind essential oil blend. 100% Pure and Non-Toxic Blend with No Synthetic Fragrances help you unwind and settle your senses with calming and soothing effects.
VedaOils Unwind Essential Oil Blend includes Lavender, Chamomile, Vetiver, Orange, Patchouli and Petitgrain Essential oils helps in calming the body and mind and aid in reducing stress and insomnia. Unwind Essential Oil Blendis skillfully created for elevating mood, improving sleep, purifying air & stress reduction.
Unwind Essential Oil Blend Ingredients
Lavender Oil
Lavender oil can improve one's mood, relieve headaches and nausea, and calm uneasiness and anxiety. Lavender's distinctive aroma is well-known for its ability to create a calming ambience.
Chamomile Essential Oil
Invigorating aroma of Chamomile Essential Oil is an important ingredient for making scented Candles, Soap bars, Incense sticks, etc. You can also use it to make DIY natural perfumes and deodorants.
Vetiver Essential oil
Inhaling or diffusing vetiver oil will enhance the way you breathe. Natural Vetiver essential oil supports healthy breathing and also improves immunity and can be used for Aromatherapy.
Orange Essential Oil
Refreshing, sweet, and tangy scent of Orange Essential Oil adds up to a unique fragrance when used in making natural perfumes. Use it to improve the aroma of your homemade skin care recipes.
Patchouli Essential Oil
Relaxing and soothing aroma of organic patchouli essential oil will help you to balance your emotions. Patchouli Oil is also being used on a large scale in cosmetic products and aromatherapy.
Petitgrain Oil
Petitgrain essential oil has a fresh and pleasant perfume that contributes to a more relaxed environment. Very useful for promoting sensations of relaxation by generating a peaceful and pleasant environment.
Unwind Essential Oil Blend Benefits
Promotes Sleep
Your body and mind will feel less stressed and tense due to the fragrance's calming and soothing qualities of Unwind Blend. Use Blend to defuse tense situations or simply transform any area into a tranquil refuge. Unwind oil blend helps you sleep soundly at night.
Relieves Stress
Keep your body twitching and your mind running before bed, this calming mixture unwinds your body and soothes your thoughts, surrounding you in a tranquil, safeguarding energy thus relieving stress.
Aromatherapy
Use Unwind Essential Oil Blend for home fragrance & aromatherapy session for self-awareness, tranquilly, stabilization, reduction of stress and anxiety.
Product Specifications
| | |
| --- | --- |
| Product Name: | Unwind Essential Oil Blend |
| Country of Origin: | India |
| Form: | Liquid |
| Shelf Life: | 2 years |
| Solubility: | It is soluble in alcohol and some oils. |
| Color: | N/A |
| Odor: | N/A |
| Consistency: | N/A |
| Solubility: | It is soluble in alcohol and some fixesd oils. |
| Packaging Type: | As Per Requirement |
| Ingredients: | Lavender, Chamomile, Vetiver,Orange,Patchouli,Petigreen Essetial Oil |
Packaging Sizes
Please Note: The packaging shown above is a General Representation of the various sizes and types of packaging available for this product. Not all sizes and types of packaging for this product maybe available at all times.
Buy Unwind Essential Oil In UK at Wholesale Price
VedaOils is one of the leading manufacturers and suppliers of Unwind Essential Oil Blend & Other Oils blends in United Kingdom. Our 100% Pure Natural Unwind Essential Oil is a beautiful concoction of pure essential oils that are beneficial for your health and overall well-being.
It is prized for its ability to evoke holiday spirit at your home and much other ayurvedic use. When it comes to preparing the essential oils blends our experts stick to our long live organic roots and prepare a remedy that is so versatile in use. We provide premium quality pure Christmas Tree Holiday Essential Oil Blend at the best price in United Kingdom.
Buy VedaOils' Unwind Essential Oil Blend online through our online shopping portal. Our portal uses a smooth transaction process and our customer care services are available to help you out shopping or getting the answer to your queries. We deliver best christmas spirit blend all over United Kingdom and in other countries using our logistic partners DHL, FedEx, BlueDart, India Post, etc.
We ensure you that our Unwind Oil Blend is completely free from any additives. We do not use any colored tints, preservatives, fragrances, or chemically infused ingredients to manufacture Unwind Essential Oil. Use our product without hesitation!
Frequently Asked Questions
WE NOTICE YOU ARE FROM
US & CANADA LOCATION