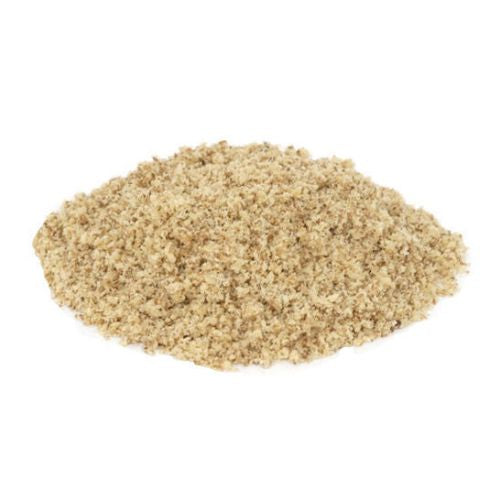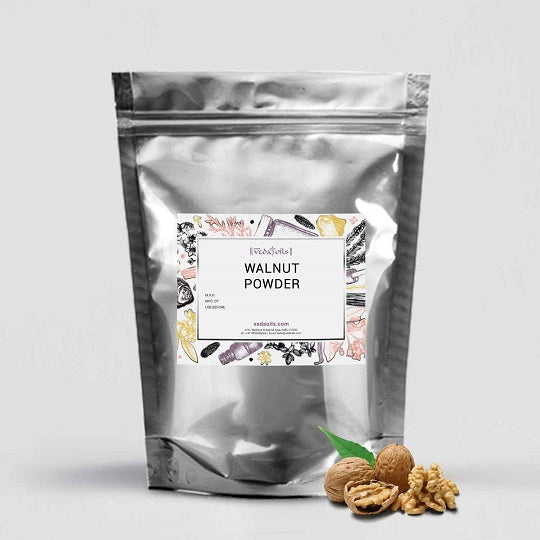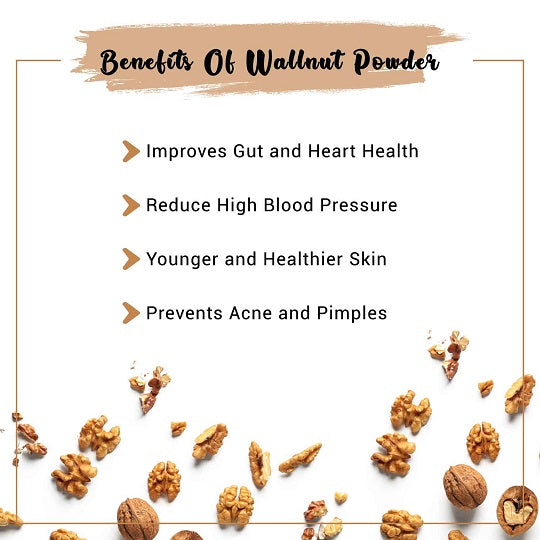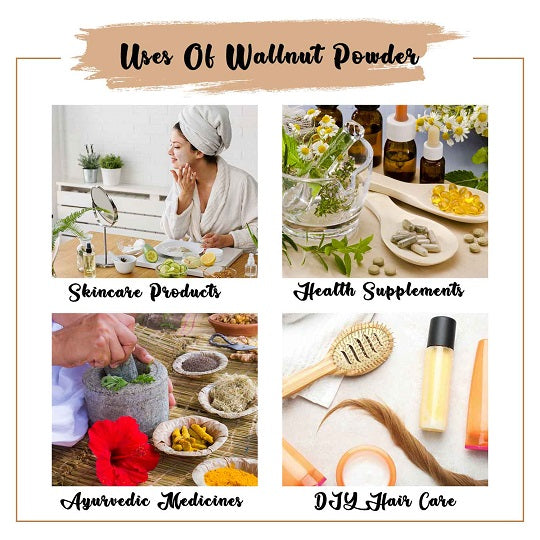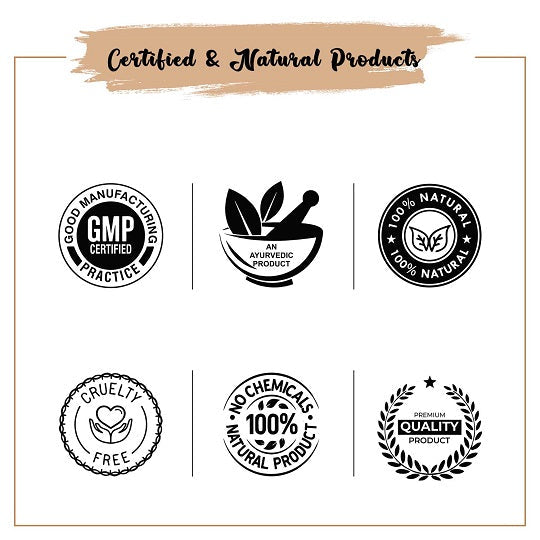 Our Certifications
Walnut Powder
Walnut Powder is made from the dried shells and hull of walnuts and is mostly used for exfoliating the skin. It is mostly used in skin cleansing products but can also be used in skincare products due to its nutritional benefits. You can use walnut herbal powder in body scrubs, lotions, peeling creams, shower gels, and other skin care and cosmetic applications. You can use Organic Walnut Powder to Prepare DIY Face Scrubs, face masks, peeling gels, and other products that are used for exfoliating the skin.
Walnut Shell Powder exhibits antimicrobial properties and proves to be effective in reducing fungal and bacterial infections. You can also use walnut powder to bring more texture and hardness to the cosmetic formulas. It is used for removing impurities from the skin, it is gentle enough to be used for all skin types. Walnut Shell Powder can be blended with other natural ingredients and essential oils to improve its overall benefits for your skin. Walnut flour is rich in minerals and amino acids. It is a Premium Grade Walnut Powder that consists of fine particles that range from 0.10 to 0.31 micrometers in size.
Walnut Powder Uses
Skin Brightening Creams
Pure and organic Walnut Powder is rich in vitamin E and vitamin B5 that exhibit powerful skin brightening properties. Akhrot Powder tightens your skin pores to provide an even complexion to your skin. It is widely incorporated in skin brightening creams.
Face Cleansers
Ability of Walnut Powder to remove dead skin and dry skin cells from your body makes it an effective ingredient while making face and body cleansers. The exfoliating properties of this powder can be useful while making face scrubs and face masks as well.
Dandruff Prevention Formulas
Natural Walnut Powder eliminates dandruff and prevents the formation of dandruff. It contains enough nourishment for your hair and scalp that works for keeping dandruff under check. It keeps the oil formation under control and avoids issues like scalp itchiness.
Hair Fall Prevention Solutions
Walnut Powder helps to prevent hair fall by strengthening the roots. This is possible due to the omega essential fatty acids that prevent the dullness of hair. By providing enough nourishment to your hair strands, Walnut Powder plays an important role in stopping hair loss.
Sunscreen Lotions
Best-quality Walnut Powder can be added while making sunscreen lotions as it protects your skin from damages caused due to harmful radiations of the sun. It also soothes sunburns and plays a key role when used in skin protection and damage control creams.
Anti-aging Formulas
Walnut Powder is being incorporated as a key ingredient in many anti-aging formulas as it contains polyunsaturated fats that work to provide younger and healthier-looking skin. It is also effective against wrinkles and helps to keep the skin youthful. It is effective for fading fine lines.
Walnut Powder Benefits
Moisturizes Skin
Walnut Powder moisturizes skin and its powerful antioxidants work to keep your skin blemish-free, healthy, and radiant. It can be blended with honey to make moisturizing face packs that give a natural glow to your face. It is also incorporated in face masks due to its emollient properties.
Wound Healer
Our natural Walnut Powder is an effective wound healer as it contains powerful antimicrobial properties. It is used for treating minor cuts and wounds and it also soothes the skin from swelling and pain due to its powerful anti-inflammatory properties. It is also used sometimes to treat leukemia.
Improves Sleep Quality
Using Walnut Powder for massages and aromatherapy can prove to be effective in improving sleep quality. This is possible due to the presence of serotonin, melatonin, and other active compounds that help to balance the negative thoughts and emotions that disturb your sleep.
Reduces Hair Fall
People especially men who are suffering from balding can benefit greatly by incorporating Walnut Powder in their hair care regime. The fatty acids that are present in Walnut powder boost hair growth and restore the damaged hair. Hair loss and balding are slowed down to a great extent.
Curbs Acne
Walnut Powder keeps the oil formation in the skin cells under check and prevents the formation of acne and pimples by doing so. It prevents clogging of skin pores and keeps your skin healthy. By adding Walnut Powder to your lotions and moisturizers, you will get a clear and spotless complexion.
Prevents Redness & Swelling
Regular use of Walnut Powder in skincare routine will prevent redness and swelling of the skin. Its anti-inflammatory properties also help to soothe the skin and help the skin to recover faster from wounds and cuts. It proves to be an ideal ingredient in cosmetic formulas.
Product Specifications
| | |
| --- | --- |
| INCI Name: | Juglans Regia (Walnut) |
| Raw Material Source: | Walnuts |
| Manufacturing Process: | The walnut shells are nicely ground into a fine particle and filtered to remove any abrasive particles. The obtained powder still consists of gritty particles but they will not damage your skin in any way. |
| Tested On Animals?: | No |
| GMO: | It is GMO-free but does not contain a certificate for it. |
| Vegan: | Since it does not contain any ingredients that are derived from animals, it can be used by vegans as well. |
| Shelf Life: | 2 years |
CAUTION: CAUTION: It is meant for external purposes. Keep it away from the reach of your kids and avoid direct contact with eyes
Packaging Sizes
Please Note: The packaging shown above is a General Representation of the various sizes and types of packaging available for this product. Not all sizes and types of packaging for this product maybe available at all times.
Buy Walnut Powder Online at Best Price in UK
VedaOils is one of the prominent manufacturers, suppliers, & wholesale distributors of Walnut Powder and other herbal powders in United Kingdom. Our products are trusted all over UK for their high quality and purity. No artificial colours, preservatives, or fragrances are added while making walnut powder. Hence our walnut powder is 100% natural and organic.
Order Pure Walnut powder online through VedaOils' shopping portal according to your requirements. We deploy high standard delivery to ensure that the best quality product reaches you in time. Walnut powder is now available in packets of 100gm, 500gm, 1kg, and 5kg.
You can also Buy Walnut Powder in Bulk at wholesale prices from us. We offer discounts and wholesale rates for bulk purchases. you can leave a query in our Bulk Enquiry section to buy organic walnut powder at the best price in UK.
Frequently Asked Questions
WE NOTICE YOU ARE FROM
US & CANADA LOCATION