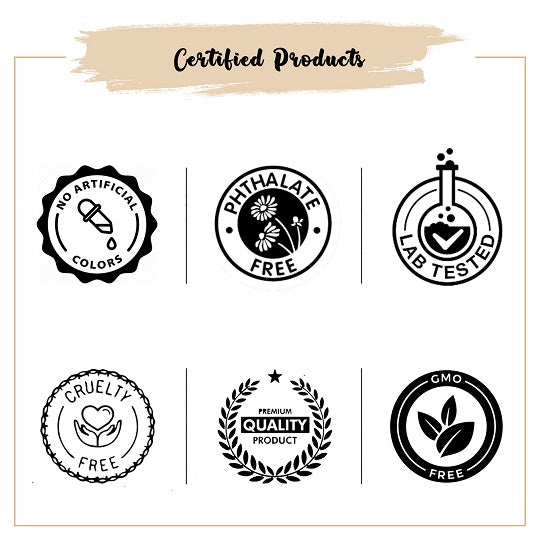 Our Certifications
Warm Woods Fragrance Oil
A woody and floral type of scent are exhibited through the classy warm woods fragrance oil. The scent leads you to the rustic woods and has a soft side with the notes of watery pears. The scent would want you to wander and linger in the woods.
The calming and captivating fragrance of the warm wood oil makes the atmosphere totally lively and radiant. The oil has an enticing aroma that reduces stress and anxiety and relaxes the mind and body. The atmosphere becomes more dreamy and exciting when the fragrance of wood fragrance oil is used. The application of the perfume oil gives a feeling of walking into the garden full of warm woods all around.
Warm wood fragrance of the oil can be used in various applications such as candles, soaps, moisturizers, perfumes, and many more skincare and haircare products.
Warm Wood Fragrance Oil Uses & Benefits
Soap Making
Classic scent of warm wood fragrance oil is used in soap making and to make DIY soaps. Bathing bars are filled with delightful aroma when used on body and stay for longer period of time. Fragrance of this oil in soaps is long-lasting and stays on whole day.
Scented Candles
Sophisticated and rich warm wood fragrance that is used to make perfumed candles. Candles adore atmosphere with their delightful aroma. Candles with warm, wood fragrance oil have superb floral flow which makes atmosphere all dreamy.
Air Fresheners
Used as an air freshener Warm wood fragrance oil, helps to get rid of any harmful microbes present in the atmosphere and removes bacterial impurities and bad odor from the premises it is used in.
Perfumes
Perfumes made with warm wood fragrance oil have a very refreshing, woody, and sweet aroma that removes all the bad impurities from the body. The body mists made with this oil are very effective and long-lasting.
Cosmetics Care
Skincare products such as creams, lotions, moisturizers, body mists, & toners use warm wood fragrance oil as an ingredient in their products for woody and elegant fragrance. The oil is safe for all skin types and free of allergens.
Incense Sticks
Lighting the incense sticks also known as agarbatties fill up atmosphere with fresh and woody scent of warm wood fragrance. Incense sticks are completely environmentally friendly and create a very peaceful aura all around.
How to Use Warm Woods Fragrance Oil
Soap Making: A refreshingly fragranced soap bar gives a luxurious and rich feel to the skin. You can add your favourite 10 ml of Warm Woods aroma oil in a 150 grams soap base to get perfectly scented soap bars.
Scented Candle: Scented candles with calm and comforting aromas are made using Fragrance Oil in a calculated quantity. To obtain perfect smelling scented candles, you can use 15 ml of Warm Woods perfume oil for 250 grams candle wax flakes. Make sure you measure your quantities correctly so that the fragrance doesn't get overpowered.
Skin Care & Cosmetic Products: Mild and gentle scented cosmetic products are made using Warm Woods fragrance oil in very little proportion to not react to the skin.
Aromatic Bath: A good aromatic bath in a bathtub helps to relax and calm the body. You can add 5-6 drops of Warm Woods fragrance oil in a bathtub to enjoy the aromatic bath's rejuvenating and relaxing session.
Note: The concentration of pure Warm Woods scented oil needs to be varied according to the purpose of use.
Product Specifications
| | |
| --- | --- |
| Product Name: | Warm Woods Fragrance Oil |
| INCI Name: | N/A |
| Country of Origin: | India |
| Foam: | Liquid |
| Flash Point: | N/A |
| Color: | N/A |
| Aroma: | Fresh, Earthy, and Sweet Floral fragrance |
| Suitable for: | Bath Bombs, Lipsticks, Lip Balms, Facial and Body Scrubs, Creams, Perfume Oils |
| Packaging Type: | As per requirement |
| Storage: | Store in a Cool & Dry place. |
| Shelf Life: | 2 years |
| COA: | |
| MSDS: | |
Packaging Sizes
Please Note: The packaging shown above is a General Representation of the various sizes and types of packaging available for this product. Not all sizes and types of packaging for this product maybe available at all times.
Buy Warm Woods Fragrance Oil at Wholesale Price In UK
Vedaoils is a leading manufacturer, distributor, and supplier of very good quality Warm Woods fragrance oil In United Kingdom. The firm is committed to providing a satisfying experience to all its consumers. We are offering warm wood fragrance oil in bulk quantities and at a wholesale price for easy commercial purposes. Retail packages of 100 ml are available for personal use as well. The commercial users may order our warm wood fragrance oil in packages of 100ml, 500ml, 1L, 5L respectively.
Our valuable website and quick delivery services help us to deliver the orders on time to your doorstep. We employ high packaging and quality standards to make you reach the naturally useful Warm Woods fragrance oil easily. The exceptional, relaxing, and refreshing aroma of warm wood fragrance oil will make you explore its uses in multiple applications and products.
A very gentle and likable aroma of warm wood fragrance oil is versatile and highly effective in nature. It is completely organic and does not contain any chemicals or artificial preservatives. The oil is a good alternative to all the synthetic fragrances and oils available in the market.
Our logistics partners like DHL, India Post, Blue Dart, FedEx, and many more help us to provide the Warm Woods fragrance oil to the customers residing in various parts of the globe such as USA, Canada, Australia with ease and great services.
Frequently Asked Questions
WE NOTICE YOU ARE FROM
US & CANADA LOCATION