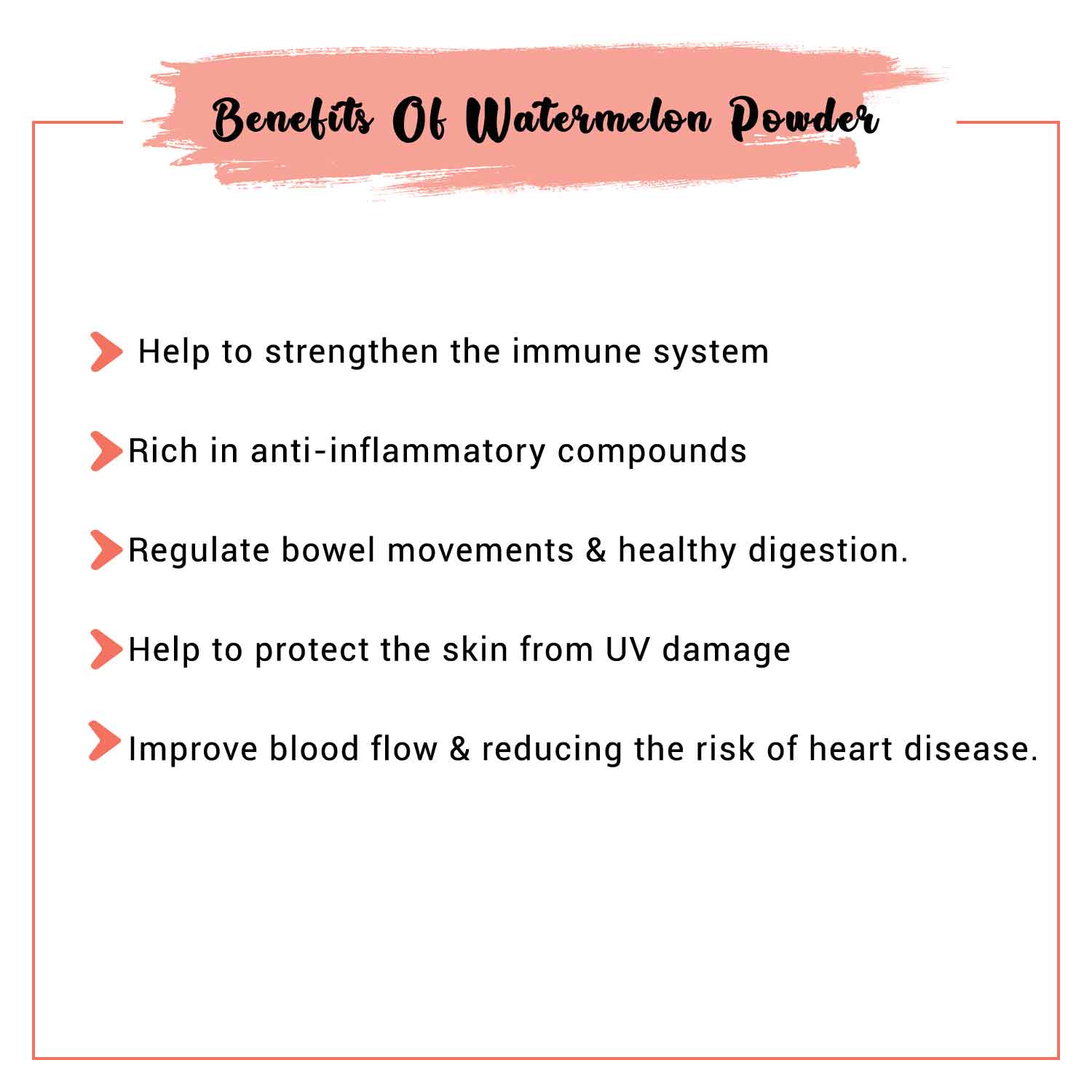 Our Certifications
Watermelon Powder
Watermelon powder is a dehydrated form of watermelon that retains many of its nutritional benefits and concentrated flavor. It is made by drying watermelon slices or pulp and then grinding them into a fine powder. This powder is rich in vitamins, minerals, and antioxidants, making it a popular ingredient in various food and beverage products.
Watermelon powder offers a convenient way to enjoy the refreshing taste and health benefits of watermelon year-round. It can be used to add natural sweetness and flavor to smoothies, juices, desserts, and even savory dishes. The powder can also be rehydrated to create watermelon juice or incorporated into homemade popsicles and ice creams.
In addition to its delicious taste, watermelon powder is a good source of vitamin C, which supports immune function, and lycopene, a powerful antioxidant known for its potential anti-inflammatory properties. It also contains electrolytes like potassium, which is essential for proper hydration.
Watermelon powder is often chosen as a healthier alternative to processed sweeteners or artificial flavorings. It offers a burst of natural fruit flavor and can be a versatile addition to a balanced diet.
Watermelon Powder
Hydration Support
Watermelon powder contains natural electrolytes like potassium, which can help replenish hydration levels and support proper fluid balance in the body.
Antioxidant Powerhouse
Rich in antioxidants like lycopene and vitamin C, watermelon powder helps combat free radicals, protecting cells from oxidative stress and supporting overall cellular health.
Immune System Boost
The high vitamin C content in watermelon powder contributes to a healthy immune system, aiding in the body's defense against infections and promoting immune function.
Heart Health
Watermelon powder is a natural source of citrulline, an amino acid that supports healthy blood vessels and cardiovascular function, potentially aiding in maintaining heart health.
Digestive Wellness
Watermelon powder is rich in dietary fiber, which supports digestive health, aids in regular bowel movements, and promotes a healthy gut microbiome.
Skin Health
Antioxidants in watermelon powder, along with its hydrating properties, can contribute to healthier skin by supporting collagen production, protecting against UV damage, and promoting a youthful complexion.
Watermelon Powder Uses
Facial Scrubs
Combine watermelon powder with gentle exfoliating ingredients like sugar or oatmeal to create a natural and refreshing facial scrub, helping to remove dead skin cells and leave your skin soft and smooth.
Lip Balms
Incorporate watermelon powder into homemade lip balms or lip scrubs for a sweet and hydrating treat for your lips, providing moisture and a subtle watermelon flavor.
Body Lotions or Creams
Add watermelon powder to your DIY body lotions or creams to infuse them with the refreshing scent of watermelon while nourishing and moisturizing your skin with its natural properties
Smoothie Booster
Enhance the nutritional profile and taste of your smoothies by incorporating watermelon powder, adding a sweet and refreshing twist to your favorite blends.
Baking Delights
Incorporate watermelon powder into muffins, cakes, or cookies to infuse them with a subtle watermelon flavor, creating unique and irresistible baked goods.
Mocktail Mix
Use watermelon powder to make delightful mocktails by mixing it with sparkling water, citrus juices, and herbs, creating refreshing and alcohol-free beverages for parties or gatherings.
Product Specifications
| | |
| --- | --- |
| Product Name: | Watermelon Powder |
| Botanical name: | Citrullus lanatus |
| Brand Name: | VedaOils |
| Foam: | Powder |
| Packaging Size: | Packaging as per requirment |
| Added Preservatives: | No |
| Added Preservatives: | No |
| Flavour: | Watermelon |
| Grade: | Food Grade |
| Country of Origin: | United Kingdom |
CAUTION: CAUTION: It is meant for external purposes. Keep it away from the reach of your kids and avoid direct contact with eyes
Packaging Sizes
Please Note: The packaging shown above is a General Representation of the various sizes and types of packaging available for this product. Not all sizes and types of packaging for this product maybe available at all times.
Buy Water Powder Online in UK at Best Price
VedaOils is one of the prominent manufacturers, suppliers, & wholesale distributors of natural Watermelon Powder and other herbal powders in United Kingdom. Our products are trusted all over UK for their high quality and purity. No artificial colours, preservatives, or fragrances are added while making watermelon powder. Hence our Water powder is 100% natural and organic.
Order Pure Watermelon powder online through VedaOils' shopping portal according to your requirements. We deploy high standard delivery to ensure that the best quality product reaches you in time. Watermelon powder is now available in packets of 100gm, 500gm, 1kg, and 5kg.
You can also Buy Watermelon Powder in Bulk at wholesale prices from us. We offer discounts and wholesale rates for bulk purchases. you can leave a query in our Bulk Enquiry section to buy organic Watermelon powder at the best price in UK. We export Watermelon Powder in bulk quantities to The USA, Canada, Australia, and many more countries using our logistic partners DHL, FedEx Blue Dart, India Post, etc.
Frequently Asked Questions
WE NOTICE YOU ARE FROM
US & CANADA LOCATION