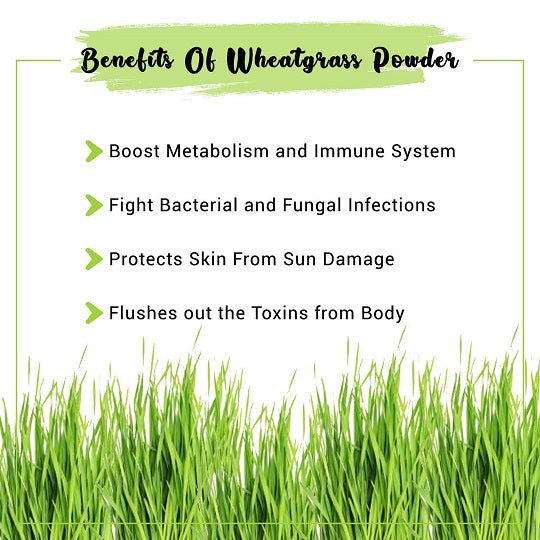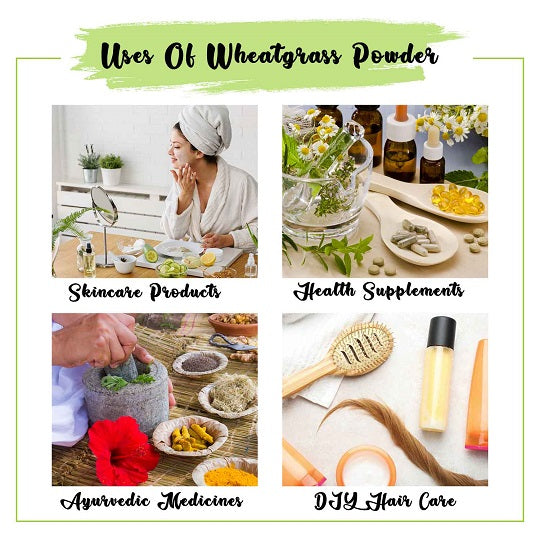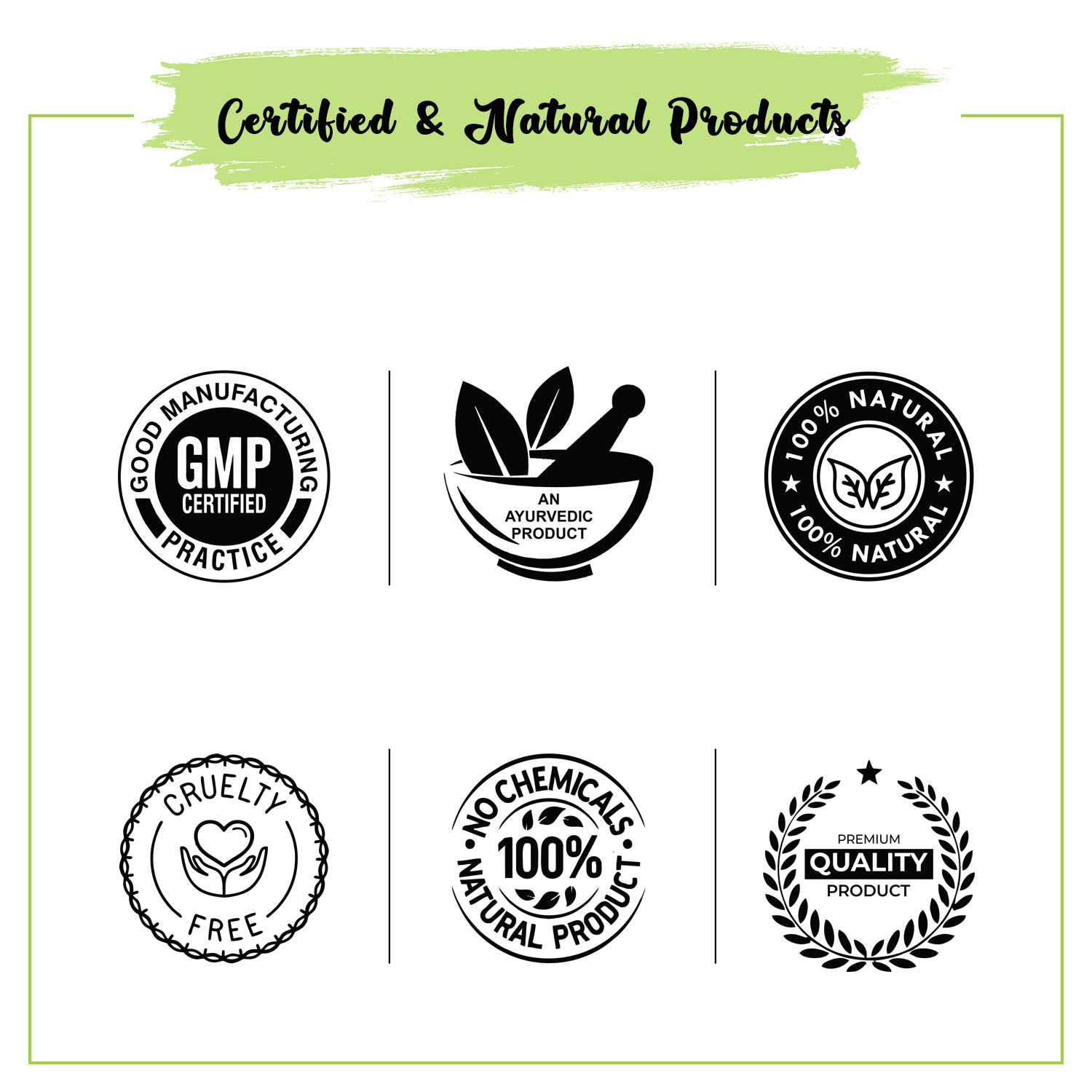 Our Certifications
Wheatgrass Powder
Wheatgrass powder is obtained from the Wheatgrass herb that is rich in vitamin A, minerals, amino acids, vitamin E, and vitamin C. Wheatgrass powder is used in cosmetic preparations and also is an important cosmetic ingredient when it comes to making soaps. Due to its green color pigment, it is also used to give green color to cosmetic applications and soaps. You can also add Wheatgrass Herbal Powder directly in your lotions, creams, and moisturizers to receive its benefits directly.
Wheatgrass powder has a detoxifying effect on the skin and though many people prefer consuming it directly. The Anti-inflammatory Properties of Wheat Grass Powder make it one of the commonly used ingredients to reduce skin inflammation, heal scars and minor cuts. You can use organic wheat grass powder in your creams and lotions to make the blemishes from your face disappear. Face masks, face creams, peel-off masks, creams, lotions, sunscreens, skin protection creams, and other skincare products contain wheatgrass herbal powder as one of the active ingredients.
No chemicals or additives are used while manufacturing best wheatgrass powder which means that you don't have to worry while using this product. Also, the highest standards of purity and safety are incorporated to deliver the Premium Quality Wheatgrass Powder at your doorstep. It comes in a fine powdered form of light green color and has a mild herbal odor to it.
Wheatgrass Powder Uses
Anti-aging Applications
Organic Wheatgrass Powder contains powerful antioxidants that fight against the free radicals that are produced by oxidative stress. These free radicals are responsible for early aging symptoms and our natural Wheatgrass Powder controls and eliminate them to provide you with youthful skin.
Wound Healing Creams
Rich content of Vitamin K and Vitamin C in our organic Wheatgrass Powder support quicker healing of wounds. They work to fade the scar marks and blemishes that are caused due to cuts, bruises, and injuries. These properties make it an ideal component of wound healing lotions and creams.
Hair Growth Formulas
Wheatgrass Powder proves to be helpful for rapid hair growth as it enhances the proportion of oxygen in the blood which boosts hair growth. It detoxifies your blood and promotes the healthy hair growth. Hair growth formulas containing best Wheatgrass Powder will make your mane thick and lustrous.
Anti-acne Formulas
You may add organic Wheatgrass Powder in your face creams and moisturizers. The antibacterial and antifungal properties of Wheat grass powder keep pimples and acne under control and prevent their formation. Makers of anti-acne and anti-pimple creams may find these uses to be appealing.
Sun Protection Creams
Our pure Wheatgrass Powder can be incorporated as a vital component of sun protection creams and sunscreens due to its ability to protect your skin from the harmful effects of the sun. Dried Wheatgrass Powder helps in reversing the damage caused due to overexposure to sunlight.
Pain Relievers
Anti-inflammatory properties of Wheatgrass Powder make it effective against swelling, pain, and muscle stiffness. It may provide relief from pain caused due to arthritis. It improves bone function and reduces discomfort during joint pain. Manufacturers of pain-relievers and lotions add it in their products.
Wheatgrass Powder Benefits
Prevents Hair Greying
Apply the hair mask containing Wheatgrass Powder, if someone is suffering from premature greying of hair. This will not only prevent hair greying but will reverse hair damage and control hair fall to a great extent. Makers of hair fall prevention shampoos and conditioners prefer it in their products.
Hydrates Skin
Wheatgrass Powder hydrates skin and it is rich in Vitamin E which stabilizes your skin barrier and protects your skin from environmental pollutants. Adding it to your moisturizers and body lotions will protect your skin from fungal infections as well. This is possible due to its fungicidal properties.
Healthy Skin
Numerous benefits of Natural Wheatgrass Powder make it the first choice of makers of skincare products. It acts as a skin tonic and can also be used in cosmetic products due to its various skin-friendly properties. Organic wheat grass juice powder helps to reduce the dark circles around your eyes naturally.
Evens Skin Tone
Magical effects of Wheatgrass Powder helps to balance your skin tone. It reduces hyperpigmentation and proves to be effective against skin redness and rashes. Apart from balancing the skin tone, Wheatgrass prevents the formation of fine lines and wrinkles and helps to keep your skin toned and firm.
Dandruff Prevention
Incorporate our organic Wheatgrass Powder in your hair care regime as it proves to be effective against dandruff. It not only rejuvenates your scalp and provides relief from itchiness but improves blood flow in the scalp to reduce flakiness and dryness that is mainly responsible for the formation of dandruff.
Natural Cleanser
Natural Wheatgrass Leaf Powder can act as a natural cleanser for your skin, hair, and scalp. It eliminates the dead skin cells and dirt from your skin and scalp and helps to maintain their hygiene and overall health. Dried Wheatgrass Powder helps to make your hair lustrous and makes your skin look healthy and beautiful.
Product Specifications
| | |
| --- | --- |
| INCI Name: | Triticum Aestivum |
| Color: | Light Greenish |
| Raw Material Source: | Wheatgrass (Triticum Aestivum) |
| Manufacturing Process: | Wheatgrass is dried first and then crushed and pressed to form a fine powder. |
| Tested On Animals?: | No |
| GMO: | It is GMO-free but does not contain a certificate for it. |
| Vegan: | It can be used by vegans as well as no animal-derived ingredients are used while making it. |
| Shelf Life: | 2 years |
CAUTION: CAUTION: It is meant for external purposes. Keep it away from the reach of your kids and avoid direct contact with eyes
Packaging Sizes
Please Note: The packaging shown above is a General Representation of the various sizes and types of packaging available for this product. Not all sizes and types of packaging for this product maybe available at all times.
Buy WheatGrass Powder Online at Best in UK
VedaOils is one of the prominent Online Wheatgrass Powder Manufacturers, Supplier, & Wholesale Distributor & Exporter of India in United Kingdom. Our products are trusted all over UK for their high quality and purity. No artificial colours, preservatives, or fragrances are added while making wheatgrass powder. Hence our wheat grass powder is 100% natural and organic.
Order Pure Wheatgrass powder online per kg through VedaOils' shopping portal according to your requirements. We deploy high standard delivery to ensure that the best quality product reaches you in time. Our Best Wheatgrass powder is now available in packets of 100gm, 500gm, 1kg, and 5kg, 10 KG & 25 kg & more.
You can also Buy Wheatgrass Powder in Bulk at wholesale prices from us. We offer discounts and wholesale rates for bulk purchases. you can leave a query in our Bulk Enquiry section to buy organic wheatgrass powder at the best price in UK.
Frequently Asked Questions
WE NOTICE YOU ARE FROM
US & CANADA LOCATION