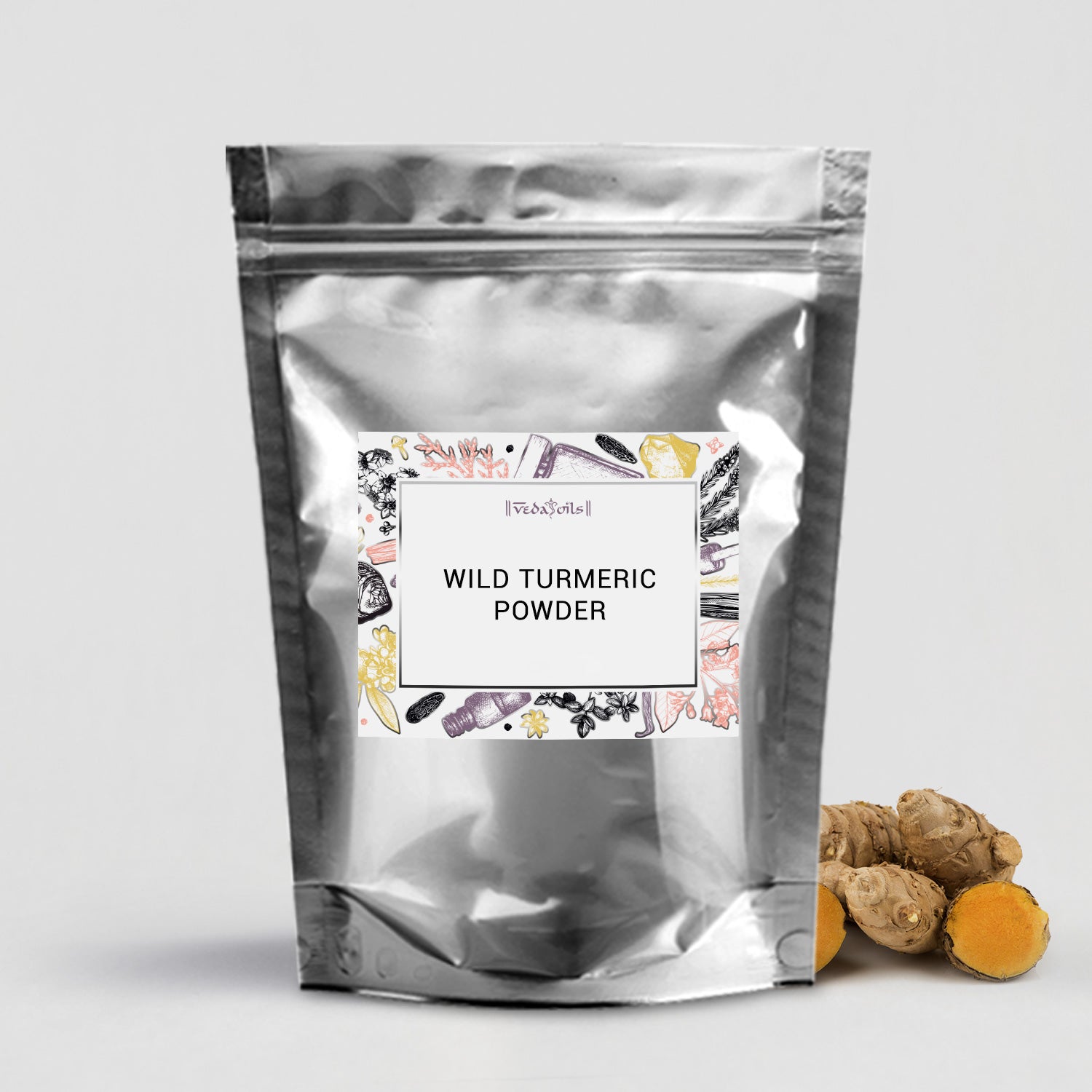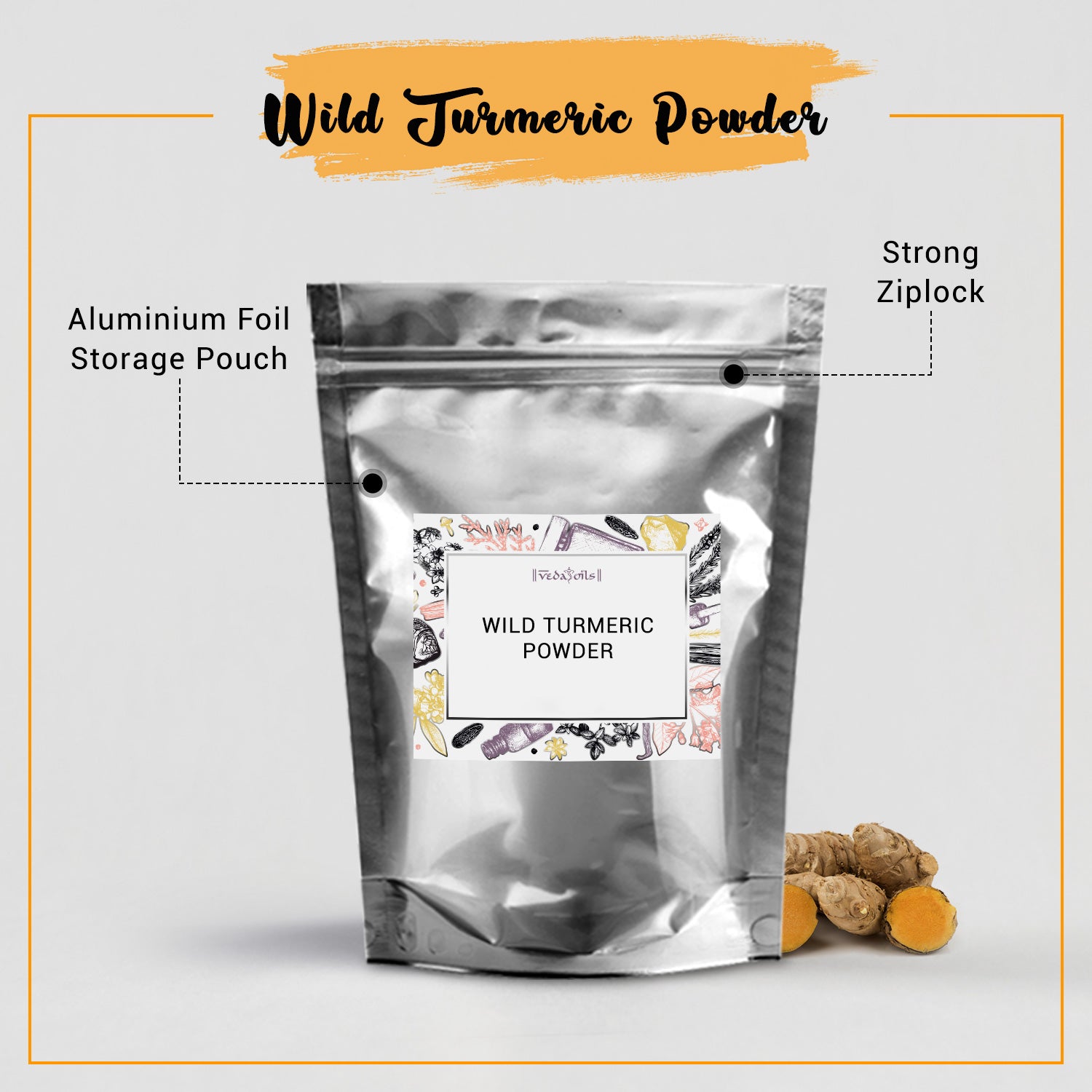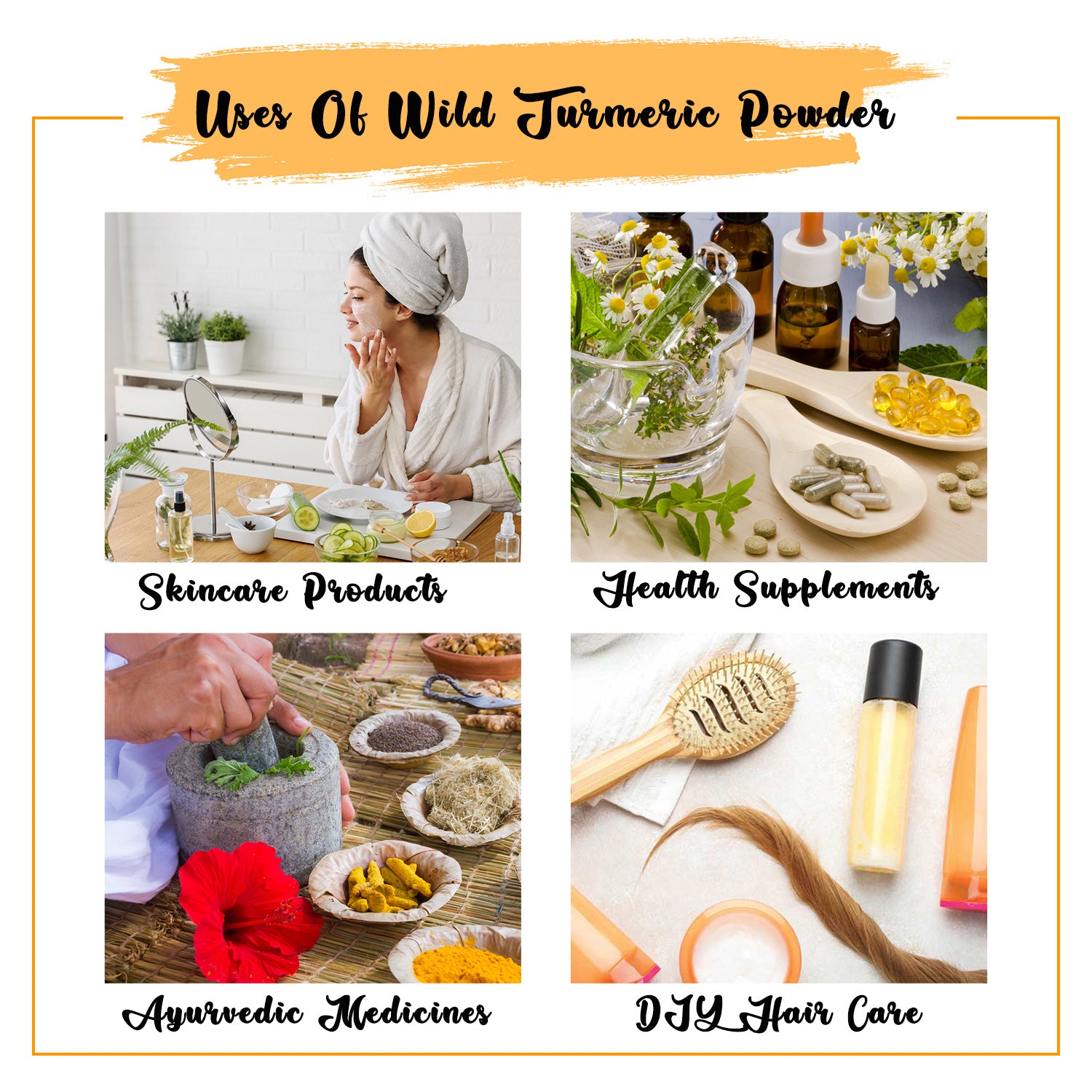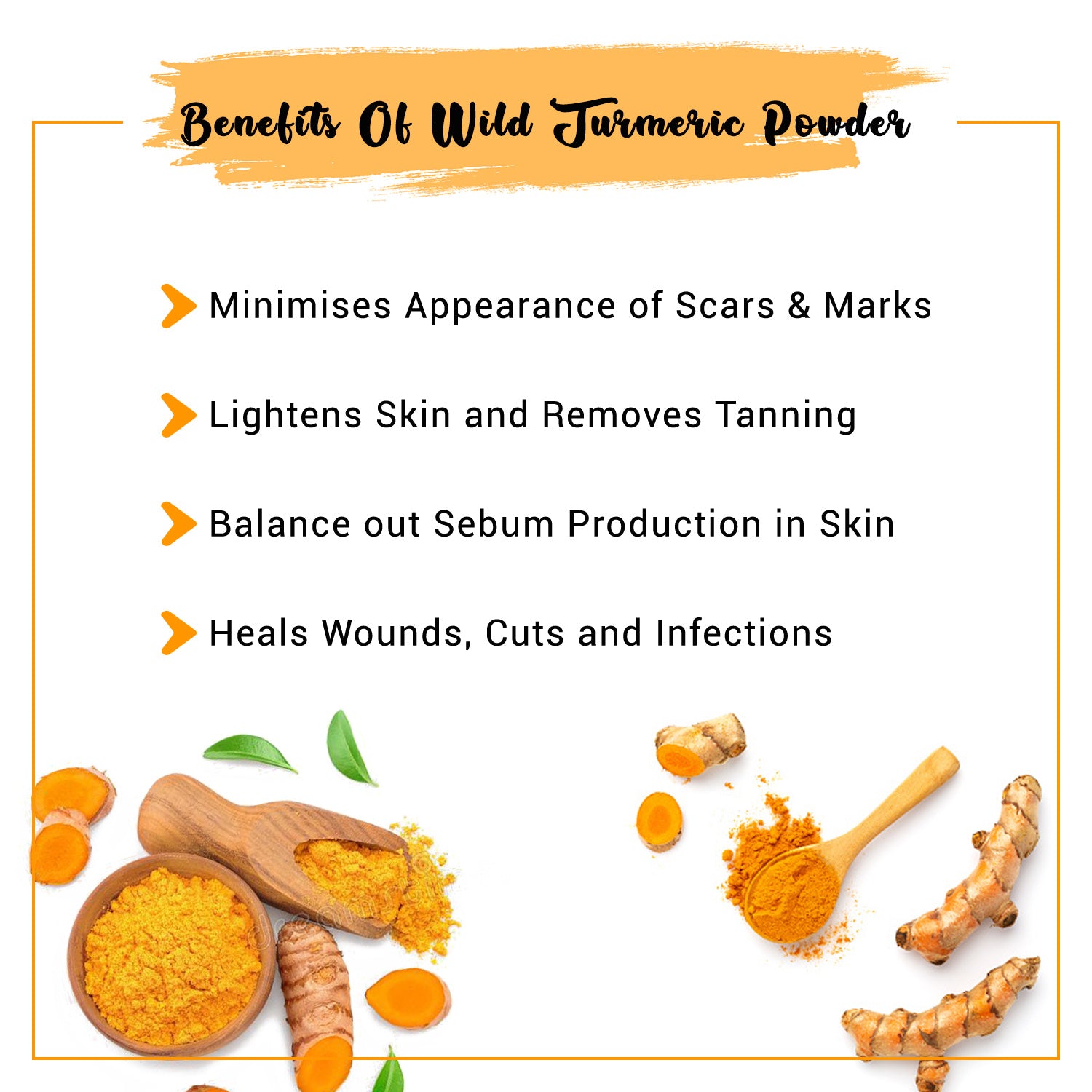 Our Certifications
Wild Turmeric Powder
Wild Turmeric Powder, also known as Kasthuri Manjal, has a light yellow colour, a sharp flavour, and a camphor-like scent. Wild turmeric is an essential component of any Ayurvedic skincare product. It is anti-oxidant, anti-inflammatory, antiseptic, and anti-bacterial. In addition, the yellow pigment in this turmeric powder brightens the skin.
Aside from these benefits, what makes wild turmeric powder so beneficial for your beauty routines is that it can be used on every skin type: acne-prone skin, normal to dry skin, tanned or pigmented skin, and even baby skin. This cosmetic herb is widely utilised in various countries of South Asia, including India. Wild turmeric powder is the ideal type of turmeric for external applications since, unlike ordinary turmeric, it does not stain your skin.
Wild Turmeric Powder Uses
Face Pack
DIY face pack, face mask, and other products use Wild turmeric powder as it helps to lighten, tone as well as brighten the skin. These face packs help to regulate oily as well as acne-prone skin issues. It even refreshes and rejuvenates the face.
Anti-Aging Creams
Wild turmeric powder is an essential product in anti-aging skin care products because it keeps the skin supple and soft and thus, reduces the appearance of wrinkles and fine lines. These creams can slow down the visible effects of skin ageing.
Skin Care Products
Moisturisers, Lotions, under eye creams, face masks, and other skincare products use this powder because it removes the blemishes on the skin and also helps to make the skin appear brighter and fairer.
Ayurvedic Salves
Owing to the infinite benefits of this powder, it is used in many ayurvedic remedies like salves, balms, creams. Wild turmeric's natural healing and soothing properties can treat many skin issues.
Medicinal Ointments and Creams
Many medicinal products like creams and ointments also use wild turmeric powder, which helps treat minor cuts, wounds, scrapes, and infections. It also protects minor wounds.
Bathing Products
Body washes, soaps, and bubble baths also use wild turmeric powder because they have natural therapeutic properties. These bathing products make skin super soft, smooth, and supple due to their skin-benefiting capabilities.
Wild Turmeric Powder Benefits
Anti-Marks and Spots Removal
This powder's anti-inflammatory and anti-oxidant properties aid in the reduction of acne scars on the skin. It may also exfoliate the skin and eliminate dead skin cells from the face.
Skin Lightening
Wild Turmeric powder has natural bleaching properties, which helps to lighten the pigmentation and discolouration. The presence of antioxidants also helps to remove the oxidation in the skin, due to which skin darkens.
Tan Removal
When used to the exposed regions of the skin, it can assist in lightening it by efficiently eliminating tan. This powder is quite effective for lightening of suntan, oxidation, and hyperpigmentation on the skin.
Removes Greasy Skin
Wild turmeric powder helps balance out your skin's sebum, which aids in unclogging pores and preventing acne, blackheads, and whiteheads. It also helps to minimise skin irritation and inflammation.
Control Acne
Since it has antimicrobial qualities, wild turmeric powder can be an efficient acne treatment. It has the potential to eliminate acne scars and provide you with clear and smooth skin.
Remove Facial Hair
Wild turmeric powder slows the growth of facial hair. It is quite good for getting rid of peach fuzz that grows on the face's cheeks, chin, forehead, and other parts. This powder works well for the removal of soft hair.
Product Specifications
| | |
| --- | --- |
| Product Name: | Wild Turmerci Powder |
| Brand Name: | VedaOil |
| Manufacturing Process: | N/A |
| Tested On Animals?: | No |
| GMO: | GMO-free but not certified for it. |
| Vegan: | Vegans can use it because it does not contain any animal-derived components. |
| Shelf Life: | 2 years |
CAUTION: CAUTION: It is meant for external purposes. Keep it away from the reach of your kids and avoid direct contact with eyes
Packaging Sizes
Please Note: The packaging shown above is a General Representation of the various sizes and types of packaging available for this product. Not all sizes and types of packaging for this product maybe available at all times.
Buy Wild Turmeric Powder Online in UK at Best Price
VedaOils is one of the prominent manufacturers, suppliers, & wholesale distributors of Wild Turmeric Powder and other herbal powders in United Kingdom. Our products are trusted all over UK for their high quality and purity. No artificial colours, preservatives, or fragrances are added while making Orange Peel Powder. Hence our Wild Turmeric Powder is 100% Natural and Organic.
Order best wild turmeric powder online through VedaOils' shopping portal according to your requirements. We deploy high standard delivery to ensure that the best quality product reaches you in time. Wild Turmeric Powder is now available in packets of 100 gm, 500 gm, 1 kg, and 5 kg. You can also Buy Wild Turmeric Powder in Bulk at wholesale prices from us. We offer discounts and wholesale rates for bulk purchases. you can leave a query in our Bulk Enquiry section to buy Wild Turmeric Powder at the best price in UK.
We export Wild Turmeric Powder in bulk quantities to The USA, Canada, Australia, and many more countries using our logistic partners DHL, FedEx Blue Dart, India Post, etc.
Frequently Asked Questions
WE NOTICE YOU ARE FROM
US & CANADA LOCATION