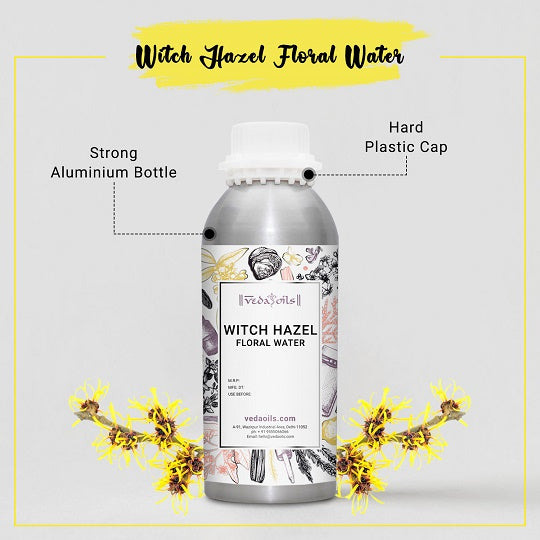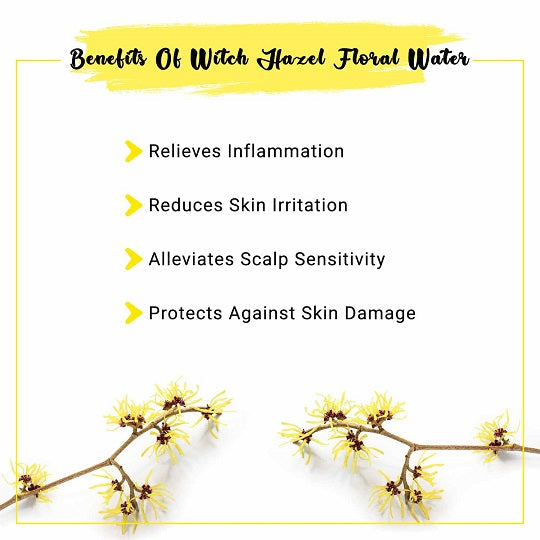 Our Certifications
Witch Hazel Hydrosol
Hamamelis Virginiana or Witch Hazel has numerous benefits since time immemorial, especially for its magical properties for the skin. Witch hazel is a woody shrub plant whose leaves and bark can be made astringent or hydrosol.
Hamamelis Water is widely used in countless beauty care products. It is naturally astringent, making it an exceptional choice to use as a skin toner or add to facial cleanser or hair care formulations. It is one of the most diversified ingredients to have in your natural medicine cabinet.
Most commercially made Hamamelis Virginiana Water contains at least a 13% alcohol base by volume. Although our product may smell medicinal to some people, it does not have any alcohol. It's simply 100% pure witch hazel distilled water.
Alcohol can dry the skin, and Witch Hazel Hydrolat is designed by nature to relieve dry skin. Try making your skin toner by simply filling any size bottle with equal parts of witch hazel water, your choice of any other hydrosol, and a bit of aloe vera juice. Shake it up, and apply to clean your face and neck. It's that simple, and it works great!
Witch Hazel Hydrosol Uses
Makeup Remover
Use witch hazel hydrosol as a makeup remover by combining it with lavender hydrosol and a few drops of a gentle cleanser. Using this type of makeup remover ensures proper coverage and efficient removal without side effects.
Sunscreens
Hamamelis water used as a fragrant summer mist to cool and soothe your skin. Excellent Thermal and UV stability of this water allows it to be used in sunscreen lotions making, which helps to prevent the loss of moisture from the skin.
Skin Toner
Witch hazel is known to be a gentle astringent and can therefore be used as a toner for cleansing your skin, controlling excess sebum production, reducing the appearance of pores, and restoring the pH balance of your skin.
Cleanser
Witch Hazel Hydrosol can be used as a natural cleanser for cleaning and disinfecting all surfaces since it is known to have antimicrobial, antibacterial, antifungal and antiseptic properties.
Deodorants
Witch Hazel Hydrosol can be used in the form of a natural body mist or deodorant. It is known to eliminate microbes, including bacteria and fungi and help in making you feel fresh and energized.
Disinfectants
Hazel Water is strong fresh medicinal scent, which is used as a powerful disinfectant. You can use it as a green cleaning disinfecting product, wound wash, or on your skin if it has acne, eczema, or psoriasis.
Witch Hazel Hydrosol Benefits
Anti-inflammatory
Witch hazel floral water is known to contain numerous antioxidants that help prevent inflammation and neutralize free radicals, which can be inflammatory compounds that can build up in your body.
Reducing Skin Irritation
Hamamelis Water can help in reducing skin redness and providing relief from irritated, sensitive skin. The topical application of witch hazel floral water helps provide relief from skin irritation and redness.
Combating Acne
hazel water acts as an astringent and helps shrink open pores, soothe skin and reduce inflammation. It can be applied directly to your skin after thorough cleansing to prevent acne-causing bacteria from infecting the skin.
Dandruff Spritz
Use Hamamelis water spray to help a persistent itchy scalp and dandruff. Whenever scalp feels itchy and irritated, spray this hydrosol and get instant relief. Hazel water most effective treatment for dreadlocks.
Antifungal
Witch Hazel Hydrosol is a known ingredient for fungal activity treatment. You can control fungal infections, including diaper rash, candida, dandruff, toenail fungus, and skin fungus using this floral water.
Tightens Skin
Witch Hazel Distilled Water is an excellent and effective astringent. You can use it to tone, firm, and tighten skin and shrink large pores and reduce excess oils.
Product Specifications
| | |
| --- | --- |
| Product Name: | Witch Hazel Hydrosol |
| INCI Name: | Hamamelis Virginiana |
| Raw Material Source: | Witch Hazel leaves |
| Extraction Process: | Steam Distillation |
| CAS Number: | N/A |
| Country of Origin: | United Kingdom |
| Suitable For: | Creams, Lotions, Facial steam |
| Color: | Colorless |
| Odour: | Soft, Slightly Green, Fresh, Swwet Anise/Licorice-Like Aroma |
| Solubility : | Soluble In Water And Alcohol, Insoluble In Fixed Oils |
| Storage: | Store in a Cool & Dry place. |
| Shelf Life: | 2 years |
| COA: | |
| MSDS: | |
CAUTION: It is meant for external purposes. Keep it away from the reach of your kids and avoid direct contact with eyes
Packaging Sizes
Please Note: The packaging shown above is a General Representation of the various sizes and types of packaging available for this product. Not all sizes and types of packaging for this product maybe available at all times.
Buy Witch Hazel Hydrosol Online In India at Wholesale Prices
VedaOils is the largest manufacturer, supplier, wholesaler and seller of varied types of hydrosol waters, We promises to indulge you in the freshness and quality of our wide-range products, including our Witch Hazel Hydrosol. Vedaoils do not compromise with the quality of the products when it concerns your health and beauty. We assure you that we adopt the highest quality standards both in production and packaging, delivering to you the ultimate, premium quality product.
We follow strict packaging standards while packing our high-grade hydrosol so that you can receive them in perfect condition at your doorstep. We offer VedaOils Pure Distilled Witch Hazel Floral Water in packages of different quantities (1kg, 5kg, 10kg, 25kg) so that you can order them as per your needs from our website. We aim to provide you with the finest of the goods, giving to you the richness and the goodness of pure natural ingredients.
You can purchase VedaOils Hamamelis Virginiana Water from our online store, from the comfort of your home at the most affordable prices and safe payment methods. Our hazel water not only caters to your cosmetic and beauty needs, but also to preparation of cleaners, room sprays and more. Check out the bulk prices of our products and avail huge discounts.
Apart from being a fine manufacturer in the United Kingdom market, VedaOils is quickly emerging as a leading producer, and exporter of global quality natural Hamamelis Virginiana Flower Water. We are exporting products globally to countries like the USA, Canada, Australia and many more. It does not contain any chemicals or artificial preservatives and is, therefore, a good alternative to synthetic fragrances and oils. Our logistics partners like DHL, India Post, Blue Dart, FedEx, etc.
Frequently Asked Questions
WE NOTICE YOU ARE FROM
US & CANADA LOCATION