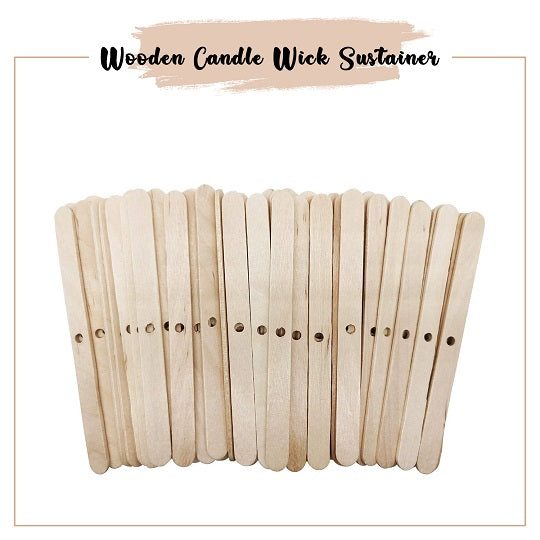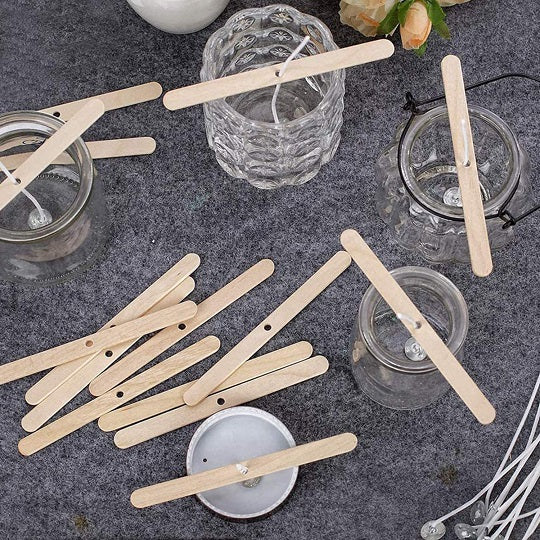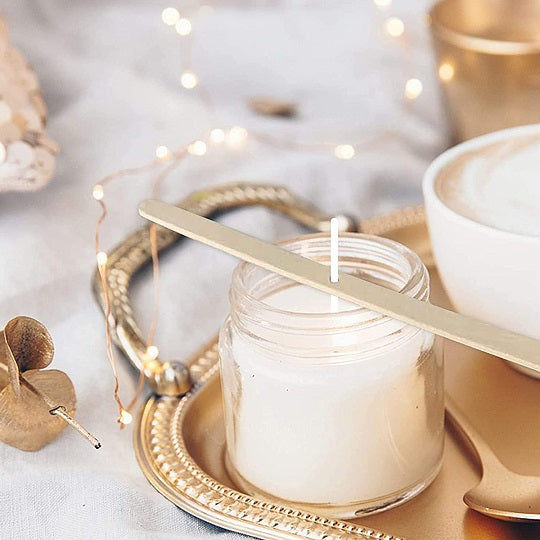 Our Certifications
Wood Wick Centre Tool
Wooden Wick Sustainers are wick centering or wick holding devices used in candle making. It is made of high-quality wood. This wick centring device helps in keeping the wick straight while also saving your time and effort. This wood wick sustainer is ideal for a variety of DIY candle making crafts.
Wooden Wick Sustainer can be used with any size and type of container. It also simplifies the candle-making process and saves a significant amount of time. The Center Hole size is around 3mm-4 mm to fix wick. The size and shape of this sustainer is perfect and for that reason it can be used for making candles of different sizes and shapes.
VedaOils wood candle Wick sustainers are eco-friendly and long-lasting, they are popular among both small and large businesses. The wooden candle wick holder can be used to make DIY ice cream bar, other creative ideas for art and craft.
Wooden Candle Wick Sustainer Uses & Benefits
Eco-Friendly and Natural
Wood Wick Centre Tool are created from 100% organic and raw wood and are created without the use of any artificial ingredients or chemicals, resulting in a safe and ecologically friendly product.
High-Quality Wooden Wicks
Wooden wicks sustainers are premium since they are constructed of high-quality wood. These non-toxic wood wick holders are also biodegradable and environmentally friendly.
Hassle-free Candling Making
Wooden wick sustainer is used to make the candle manufacturing process simple and uncomplicated. Candle manufacturing artisans make candle production easier and more appropriate for domestic candle-making.
Ready To Use
Wooden wick holders are very easy to use since they function similarly to other wick centering devices. It is simple to use and helps produce any sort of candle, making it even more flexible.
Multiple Applications
Wood wick centering tool are used in different types of candles like mason jar candles, teacup candles, pillar candles, etc. The unique look of these wicks sustainer can also be used for DIY and craft.
DIY Craft
wooden wick holders are great for producing handcrafted DIY art and craft. They can be utilized to make ice-creams, decorative pieces and other handmade items.
Wooden Candle Wick Sustainer Uses & Benefits
Follow the given steps to use Wooden wick sustainer for candle making:
Attach your wick to the jar's bottom.
Put the wooden candle wick holders on top of the container's top.
Place the wick in between to keep it centered using a sustainer.
Pour the wax and set it aside for 10 minutes to solidify.
Product Specifications
Brand:
VedaOils
Product Name:
Wooden Candle Wick Sustainer
Item Dimensions - L*H:
0.5 x 11 cm
Color:
Brown
Center Hole:
3 mm - 4 mm
Material:
Wooden
Total Weight:
50 Holder - 100 Gm
Country of Origin:
India
Quantity Per Pack:
As per requirement
Suitable for:
Candle Making, Home Decor
Buy Wooden Candle Wick at Wholesale Price In UK
VedaOils is one of the leading Wholesale suppliers, manufacturers, and exporters of Wooden Candle Wick Holder in the United Kingdom. Vedaoils manufactures the highest quality Floating Wicks cosmetic that does not compromise your health and beauty. Our Cosmetic Ingredients do not contain any harmful preservatives, fragrances, additives and filler. Order Organic raw ingredients at a low price for Industrial And personal end products.
We employ numerous tests and quality checks to ensure that only Premium-quality organic Wooden Candle Wick Holder reach you. The highest quality and packaging standards are employed to deliver desirable results on usage. Also, our portal uses a secure payment gateway such as Visa Mastercard to safeguard your transactions. Order Wooden Candle Wick Holder online in Bulk Quantity at Wholesale different packages so you can order and use them as per your needs.
We export Wooden Candle Wick Holder to the US, Canada, Australia, and worldwide. Our products follow the highest standards when it comes to quality and purity. Your orders are delivered to your doorstep, so you don't have to worry about going outside. We assure you that you will not regret choosing us! We also deliver the products worldwide using our logistic partners DHL, FedEx, etc. Get great cashback, combo offers, deals, and discount offers while buying Wooden Candle Wick Holder online from the VedaOils store.
Frequently Asked Questions
WE NOTICE YOU ARE FROM
US & CANADA LOCATION