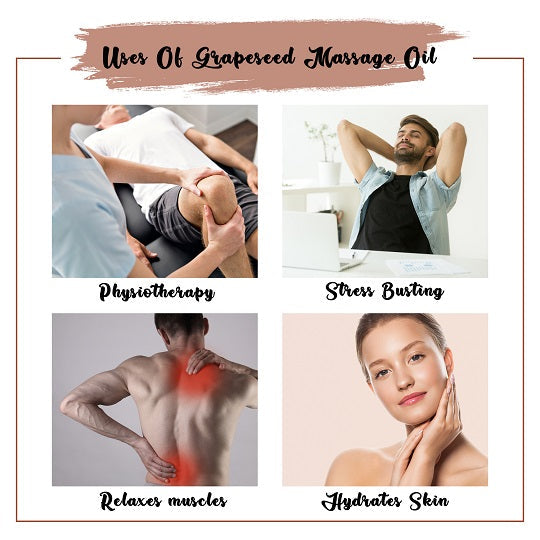 Our Certifications
Grapeseed Massage Oil
Grapeseed Massage oil is created from these leftover grape seeds and is filled with powerful antioxidants and other natural plant compounds. They have anti-inflammatory, anti-carcinogenic, antiviral, and antibacterial properties. This massage oil may also provide boundless health benefits because of the presence of Omega-3, omega-6 fatty acid, and vitamin E content.
Tissue massages using Grapeseed Massage Oil improve blood circulation, decrease swelling and speed up wound healing. Warm massages may also help in repairing damaged blood vessels and capillaries, by stimulating blood circulation. Oligomeric proanthocyanidins (OPCs) present in this oil remove free radicals and support collagen regeneration at the cellular level, making your skin firmer and preventing the evidence of damage.
The presence of vitamins D, C, E and essential fatty acids like palmitic, stearic, and linoleic acid in Grapeseed Massage Oil will firm up your skin and minimize the signs of aging. The potent antioxidants present in this massage oil will leave your face smooth to the touch and youthful-looking. It also protects the skin against Free radicals and environmental factors such as sun, wind, and pollution that can increase signs of aging and cause dry skin and discoloration.
How to Use: Take a few drops of Grapeseed Massage Oil and apply it all over your body. Gently massage the body in a circular motion for 25-30 minutes. Leave it on for at least 30 mins so that nutrients can absorb deeply into the skin.
Grapeseed Massage Oil Benefits
Softer and Elastic Skin
Vitamin E and Vitamin C in grapeseed massage oil enhance the efficiency and effectiveness of the skin. This massage oil improves elasticity and is quite helpful for replenishing moisture, softness, and flexibility.
Protect Skin from Sun Damage
Grapeseed massage oil contains powerful antioxidants that promote healthy, radiant skin, by protecting it from UV ray damage, tanning, sunburn, skin redness, and many other harmful effects of the sun.
Relieve Stress and Anxiety
Grapeseed massage oil improves feelings of fatigue, stress, anxiety, and tension, as well as restful sleep and a sense of well-being. It helps in relieving stress, anxiety, and tension, as well as improving the mood swings of the person.
Powerful Antioxidants
Grapeseed oil massages are rich in antioxidants, which help maintain elastin and other connective tissues, which support our skin. These powerful antioxidant properties also help to prevent wrinkles and fine lines caused by collagen degradation.
Anti-inflammatory Effect
Grapeseed massage oil contains polyphenols, which have strong anti-inflammatory properties that can help reduce inflammation in muscles and joints. At the same time, polyphenols have been shown to slow the process of aging.
Antimicrobial Properties
In addition to treating acne outbreaks, grapeseed massage oil also helps prevent infections and allergies caused by microbes. This oil attacks bacteria that can get into your pores and cause breakouts, making your skin clear and smooth.
Product Specifications
| | |
| --- | --- |
| Product Name: | Grapeseed Massage Oil |
| Brand: | VedaOils |
| Country of Origin: | United Kingdom |
| Foam: | Liquid |
| Color: | pale yellow |
| Aroma: | N/A |
| Alcohol-Free: | Yes |
| Usage/Application: | Body Massage / Aromatherapy |
| Packaging Type: | As per requirement |
| Storage: | Store in a Cool & Dry place. |
| Shelf Life: | 2 years |
Packaging Sizes
Please Note: The packaging shown above is a General Representation of the various sizes and types of packaging available for this product. Not all sizes and types of packaging for this product maybe available at all times.
Buy Grapeseed Massage Oil Online In UK at Low Price
VedaOils is one of the leading Wholesale Suppliers, Manufacturer, and Exporter of Grapeseed Massage Oil and other natural oil in United kingdom. We offer the purest forms of massage oils to our customers. No chemicals, additives, or fillers are added to them. They also do not contain any artificial colors, preservatives, and fragrances. Therefore, they prove to be ideal for daily use.
We employ numerous tests and quality checks to ensure that only Premium-quality and Grapeseed Massage Oil reaches your doorsteps. The highest quality and packaging standards are employed to deliver desirable results on usage. Also, our portal uses a secure payment gateway to safeguard your transactions. Buy grapeseed massage Oil from VedaOils Online according to requirements at the best competitive prices in the market.
We export our high-quality massage oils to the US, Canada, Australia, and other countries. Our products follow the highest standards when it comes to quality and purity. We assure you that you will not regret choosing us! We also deliver the products throughout the world using our logistic partners DHL, FedEx Blue Dart, India Post, etc. Do not miss this excellent opportunity to buy chemical-free, and multi-purpose Grapeseed Massage Oil from VedaOils.
Frequently Asked Questions
WE NOTICE YOU ARE FROM
US & CANADA LOCATION