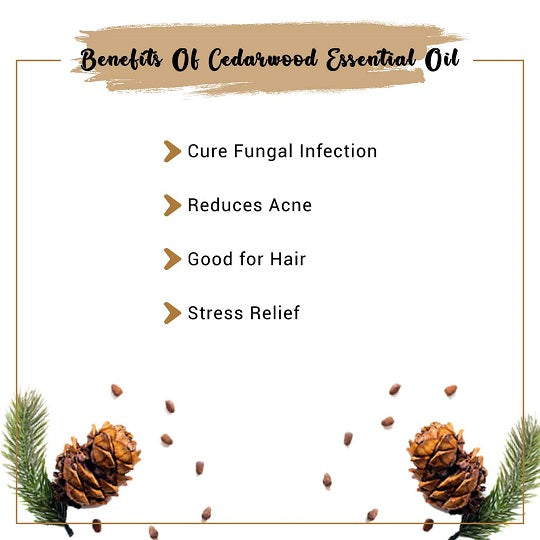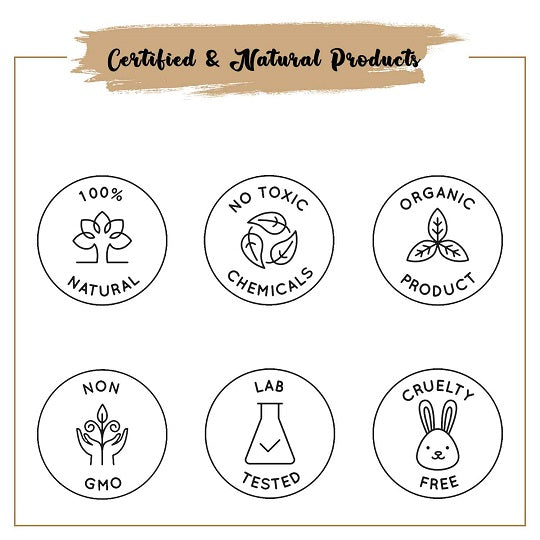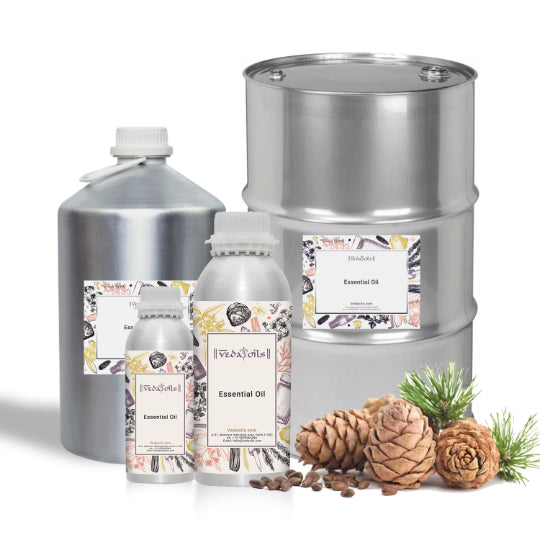 Our Certifications
Cedarwood Essential Oil
Retrieved from the barks of the Cedar trees, the Cedarwood Essential Oil is widely used in skin care, haircare, and personal care products. Different types of Cedarwood trees are found in different parts of the world. We have used the barks of Cedar trees that are found in the Himalayan region. Cedarwood oil used in aromatherapy due to its relaxing woody scent that has a calming effect on both the mind and body.
Cedarwood oil is sometimes used to induce a peaceful and harmonious ambience during religious ceremonies, prayers, and offerings. It exhibits powerful insecticidal properties that can be used while making DIY insect repellents. This oil is known for its antifungal, antiseptic, and anti-inflammatory properties.
Organic Cedarwood essential oil is healthy for your scalp and hair and is also used to treat issues like hair fall, itchiness of scalp, dandruff, etc. All these properties make it a multi-purpose essential oil for everyone. As it is a concentrated oil, we would recommend using a diluted form of this oil by blending it with a suitable carrier oil while applying topically. Cedarwood oil suits all skin types, but if you have overly sensitive skin, you can apply a small portion of this oil on your elbow to check whether it causes any irritation.
Uses of Cedarwood Essential Oil
Aromatic & Spiritual Use
Cedarwood essential oil is used in aromatherapy due to its relaxing woodsy scent. You can even diffuse cedarwood oil while meditating to reach a deeper level of meditation.
Soap & Candle Making
Cedarwood Oil is quite popular among the scented candle makers. Detoxifying effects of cedarwood oil useful in making effective soap bar. It can protect skin from harmful toxins and harm like harsh sunlight, pollution, etc.
Cleansing the Scalp
Cedarwood Essential Oil cleanses your scalp by removing excess oil and dirt from it. It also eliminates dandruff and reduces scalp irritation if applied in the right direction.
Prevent Hair Loss
Cedarwood Oil has the ability to tighten your hair follicles and improve circulation to the scalp. Its effective properties improve hair growth and reduce the chances of hair fall.
Diffuser Blends
The calming scent of Cedarwood Oil helps to balance your mood swings. It also helps to recover from fatigue as its refreshing scent revitalizes and rejuvenates your mind and body.
Treating Respiratory Issues
Common cold symptoms like cough, cold or seasonal threats can prevent you from breathing smoothly. Cedarwood Oil can soothe coughs and facilitate a smooth respiration process.
Cedarwood Essential Oil Benefits
Eliminates Unpleasant Smell
You can use Cedarwood Essential Oil as a deodorizer to eliminate the foul smell from your rooms. It fills your room with a warm, woody scent. you can also use it as a car freshener.
Firm & Youthful Skin
Cedarwood oil makes your skin firm and reduces the chances of the formation of wrinkles and fine lines. As a result, it helps in keeping your skin glowing, radiant, and youthful.
Acne Treatment
It is highly effective to kill the bacteria that cause skin issues like acne. Just add a few drops of Cedarwood Oil to your creams and lotions to keep your skin blemish-free!
Promotes Sound Sleep
The sedative properties of Cedarwood Essential Oil helps you to sleep peacefully at night. You can also enjoy hot bath treatment by adding this oil to your bathtub for issues like insomnia.
Antispasmodic
The antispasmodic properties of Cedarwood Essential Oil make it best suited for massage purposes. It also neutralizes contractions and impulses that you may experience during cramps or nausea.
Antibacterial
The antiseptic and antibacterial properties of this oil make it the best-suited ingredient for treating skin infections. It can also be used as a disinfectant to treat minor wounds and scrapes.
Product Specifications
| | |
| --- | --- |
| Botanical Name: | Juniperus Virginiana |
| CAS#: | 8000-27-9 |
| Country of Origin: | United Kingdom |
| F.E.M.A #: | 2267 |
| Specific Gravity: | 0.927 - 0.940 @ 20°C |
| Optical Rotation: | +65 to +90 |
| Refractive Index: | 1.50- 1.520 @ 20°C |
| Flash Point: | 115° C |
| Origin of part used: | Bark |
| Form: | Liquid |
| Shelf Life: | 2 years |
| Packaging Type: | As Per Requirement |
| Extraction or Processing Method: | Steam Distillation |
| Solubility: | It is soluble in alcohol and some oils. |
| Color & Odor: | Yellow to amber in color & it exhibits a woody odor. |
| Major Constituents: | Cedarwood Bark Extract |
| Blends with: | Rosewood essential oil, Jasmine Grandiflorum essential oil, Clary Sage essential oil, Ylang Ylang essential oil, and Bergamot essential oil. |
| Aromatic Scent: | Cedarwood Himalayan Oil has a woody, Cedarwood scent. |
| COA: | |
| MSDS: | |
CAUTION: It is meant only for external use. Therefore, do not consume Cedarwood Essential Oil internally and also keep it away from your eyes as it might irritate.
Packaging Sizes
Please Note: The packaging shown above is a General Representation of the various sizes and types of packaging available for this product. Not all sizes and types of packaging for this product maybe available at all times.
Buy Cedarwood Essential Oil Online in UK
VedaOils is one of the leading Wholesale suppliers, manufacturer, and exporter of Cedarwood Essential Oil and other Essential Oil in United Kingdom. We offer the purest forms of essential oils to our customers. No chemicals, additives, or fillers are added to them. Our Cedarwood oil or any other do not contain any artificial colors, preservatives, and fragrances. Therefore, they prove to be ideal for daily use. Though entirely natural, you should dilute cedarwood essential oil before using it for topical application as it is highly concentrated.
We employ numerous tests and quality checks to ensure that only Premium-quality and cedarwood essential Oil reaches you. The highest quality and packaging standards are employed to deliver desirable results on usage. Buy Cedarwood Oil from VedaOils online according to requirements at the best competitive prices in the market. You can order Cedarwood essential oil for your daily purposes such as dark circles, skin lightening, hair growth, arthritis, digestion, and better oral health. Check out cedarwood oil price per Kg, and even you can purchase this essential oil in bulk quantity.
VedaOils are one of the Largest Manufacturers, suppliers, and exporters of top-quality cedarwood essential oil and other essential oils in UK. We also export our high-quality wholesale cedarwood essential oil to the US, Canada, UK, Australia and other countries. Our products follow the highest standards when it comes to quality and purity. We also deliver the products throughout the world using our logistic partners DHL, FedEx Blue Dart, India Post, etc.
Frequently Asked Questions
WE NOTICE YOU ARE FROM
US & CANADA LOCATION